The story where you are the main hero can become your biggest challenge. It's all about the balance between bragging and modesty, fear of building a negative image, and a lack of experience to present yourself.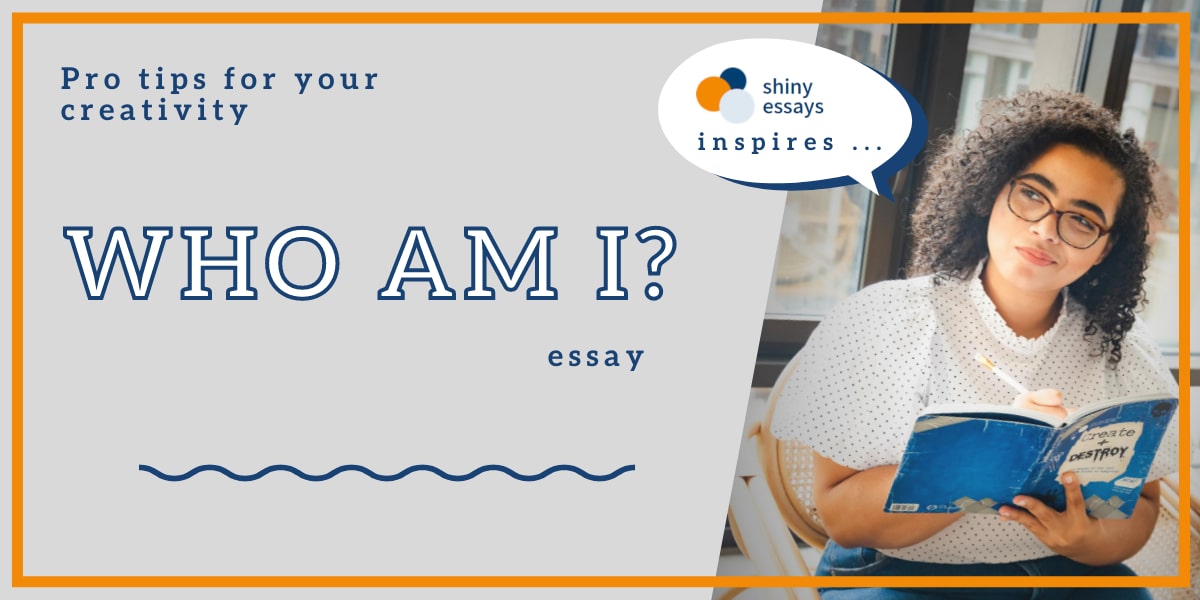 We are here to teach you how to easily come up with a brilliant Who Am I Essay. In this article, our professionals share:
experience-based recommendations on how to write a successful self-presentation;
several ready-made templates to inspire you;
a list of issues to describe in your essay;
practical advice on writing.
This article constitutes helpful materials for:
college applicants;
freshmen;
job seekers;
everyone who wants to learn the secrets of self-presentation.
Besides, there is one guaranteed way to get an awesome essay — turn to our experts for help. We have enough practical background and fresh ideas to cope with your project brilliantly.
High school essay about yourself: What teachers expect
Nothing makes us think so deeply about life as a school "Who am I essay"
(Internet joke)
There is an element of truth in this humor. Indeed, self-analysis is not often practiced among young people, and the personal essay turns out to be an unusual assignment. That is why our assistants are here to help every student with that.
We have former educators on the team, so the following information is based on real cases. Besides, we have researched new trends to update our recommendations.
It's not about judging your personality
It all begins with the purpose of this task. Some school children think that their views will be criticized, and they should not. Your essay is not aimed to evaluate how good or right you are.
The point is to reveal your skills:
writing talents;
ability to express and prove the point of view;
analytical skills.
Plus, high grades are usually given for a logical text, without misspelled words, wrong punctuation, etc.
In the case of the admission essay, your text is also taken as:
proof of your intellectual capacity for the chosen college/university;
description of your individual traits (to see if you fit in their culture);
arguments why you should be accepted to the college.
When reading the paper about yourself, the teacher, above all, wants to see:
an informative answer to the question"Who am I?;"
your deep self-reflection;
a readable well-structured story.
So, do not be afraid to tell about life, childhood, personal qualities, funny situations, and other crucial moments expressing your individuality.
Our experts are always ready to listen to your story and compose a brilliant paper on its basis. If you want to save time place your order here.
How to describe your personality: 5 strategies
What makes you who you are? The answer to this question should be given in the essay. Our specialists offer several ways on how to do it effectively.
1) Knowledge field
Show your personality through the prism of your lifework and vocation. Indeed, the profession speaks a lot of the person, even if it is still just a dream. It is because the job takes a lot of time. Therefore, this choice determines your life priorities, interests, attitude to money and power, etc.
Scenario #1 — Explain why you have chosen the particular profession
I dream to become a bionic engineer. This profession unites my interests in biology and mechanisms, as well as my wish to benefit people and become part of global meaningful projects.
Scenario #2 — Tell what has motivated you to change the job
My parents are engineers, and they taught me a lot. With gained valuable knowledge of Mathematics and Physics, I could easily enter several STEM colleges. Yet, once I have understood that engineering is not my passion. Figures, calculations, scientific research do not inspire me. What I love more is painting. As a boy, I used to make little funny illustrations and then forgot about this hobby.
A year ago I visited a Digital Design Exhibition, which impressed me a lot. I would love to be part of this modern art, where technologies and imagination create unbelievable masterpieces. At the moment, I am happy to study digital design at college. Knowledge of Maths helps me understand the logic of programs, and the passion for painting gives endless enthusiasm.
2) Hobbies, passion, interests
Many people draw inspiration from sports, arts, trips, etc. These are good ways to detach oneself from business company tasks, professional duties, and college assignments.
When writing about hobbies, do not simply list what you like to do. Explain why you have chosen it and depict its impact on your identity.
For now, aerial yoga is my biggest passion. It is my way of relaxation and training for both mind and body. Unlike conventional hatha yoga, it imposes less load on joints and the spine. Yet what I like most are awesome emotions.
The opportunity to feel that you can fly is priceless. It encourages me to fight difficulties and develop my skills. Every training is a challenge, and it's up to me whether to keep going and reach progress or stop where I am now. And I always choose the first variant.
I see the sense of life in constant development. Be it a new thing about the hammock, the next academic course, or one more chapter in my favorite book, I learn it with enthusiasm.
3) Impact of family and friends
Pupils often describe their parents and other close people as examples to follow. However, there is an alternative: for instance, you can tell that you have been disappointed by someone, and it has become a turning point for you. By doing so, you will show yourself as an independent person.
Expert tip: Whatever variant you choose, do not overdo it when writing about other people in your essay. You can mention them and explain why and how these characters have contributed to your personal development. Yet do not make them the main heroes of your story. Otherwise, these images will overshadow your personality. This tip is not only about the essay but life, in general.
4) What you believe in, your inner world
The system of values, human feelings, and views constitutes a great part of your identity. You can share principles guiding you in the life path or depict moral standards that you like.
Here are a couple of good theses:
I believe in the power of harmony. It is about the balance in nature, work-life ratio, optimal number of happy and sad events, etc. ... The middle ground in relationships helps people to gain mutual understanding ...
5) Dreams, plans, new things you would like to try
It is not enough to dream big, you also need good plans and well-considered strategies. A well-thought-out approach to planning shows your foresight and a responsible attitude to life. Do not give ambiguous promises on how you are going to save the world; instead, explain what you need for this purpose and how you want to gain it.
Essay on your life: Does & Don'ts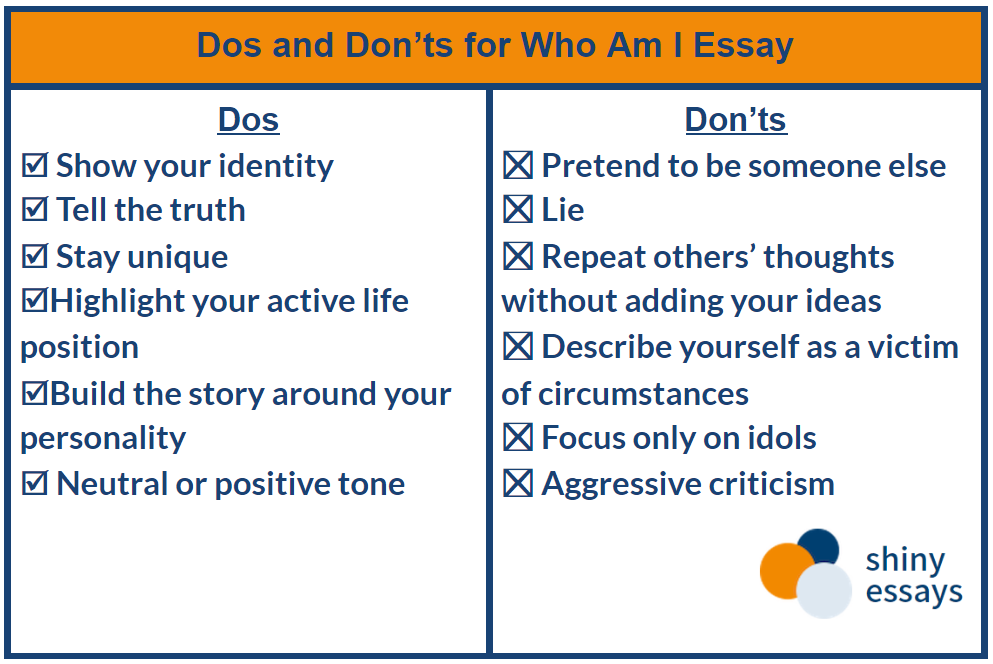 Be careful when touching upon these categories of topics:
religious moments,
politics,
illegal acts and things.
You have a right to express any point of view, yet use a neutral tone and do it with respect for others' rights. Avoid aggressive emotional criticism; instead, use solid facts to prove your opinion. Your paper does not have to offend any society layers or individuals.
Practical recommendations on essays
The theory might seem ambiguous to you, especially if you have never written texts on such topics. That is why we have prepared practical guidance to help you with that. These techniques will help you beat writer's block and build the working process.
✔ Learn from a good example
You can read hundreds of helpful recommendations and still lack a general picture of how it all should be. Get inspired by some successful variants. Order the paper from our team or read collections of the most famous essays. Even one powerful sample will give you valuable knowledge.
✔ Ponder it over
It is not easy to start writing the essay when thoughts flow chaotically. Give yourself some time to think about this topic and formulate theses. General academic rules state that you should do everything coherently, beginning from the introduction to the conclusion. Yet we recommend you change this algorithm if it does not suit you.
Having come up with several core ideas, you'll build a general picture of the essay. At first, these parts can be written chaotically. Sometimes it is better to develop the main thoughts and then restructure the text in comparison with composing all the parts coherently one by one.
✔ Make an interview for yourself
You can search for real interviews with famous people and pretend that you are one of them. Imagine how you could answer the given questions.
What kind of person are you? Our experts help to understand
If you are among those students who cannot pull thoughts together and come up with an essay about oneself, just delegate this task to our team.
Please, send us the main information on your personality. \Here is a short list helping you gather information on the essay:
your beliefs and values,
character traits influencing your identity,
memorable moments of life,
achievements and accomplishments,
dreams and plans,
everything that you consider to be crucial for this essay.
Our writers thoroughly research your personal information to create a unique essay precisely about your personality. Focused on your identity, our text is the best embodiment of your individual image. Order now — our website offers super discounts today!