Have you ever found yourself staying up all night before the exam, promising yourself to get more organized in your studies the next semester? Being a successful student is hard work that requires concentration, high motivation and ability to balance the studies with other elements of your life. However, there are also tried-and-true methods that can turn you into an effective learner and help you perform better in college.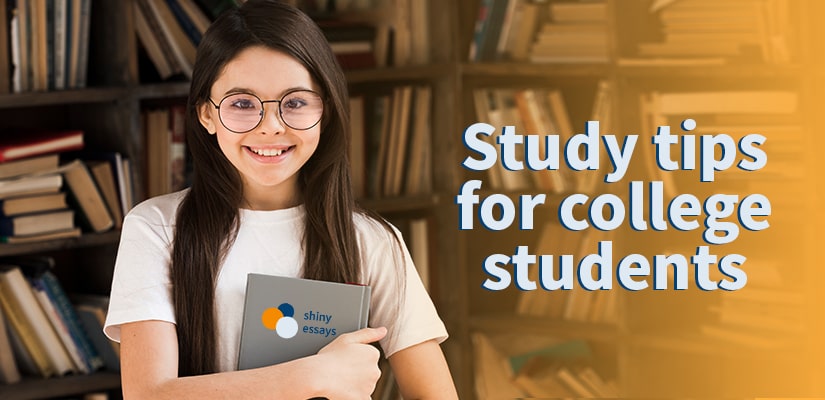 Our academic paper writers have prepared a set of tips that have already helped thousands of students to ease their learning process. Try them out to figure out what works best for you, and use the most efficient practices to get better grades from your professors.
Need some help with an urgent essay?
Being time-pressed for a research paper or essay, students experience a lot of stress and, as a result, struggle to produce a quality paper. This is when proficient college paper writers can be of huge help. The writer the of Shinyessays.com team can create a custom essay for you in less than 12 hours. Thus, you won't miss the deadline and will be able to focus on other assignments to get everything done on time.
10 study tips for college students
If you want to become a better student and significantly improve your GPA, it's time to rethink your studying habits. Follow the tips below to get organized, build on your knowledge, and perform better in class and beyond:
1. Take good notes
Taking notes during the lecture seems like no big deal, but in fact, doing it in the right way helps you remember more and revise better. It's important that you write down the key points of the lecture without going into much unnecessary detail. You might also want to use an outline form to note the structure of the lecture – with an outline at hand, you'll find it easier to revise before the exam. Also, be sure to write down everything the teacher writes on the board or highlights in the presentation – these are usually the important points for mastering the subject.
2. Review your notes every day
To achieve steady progress in college studies, it's not enough to take notes and put them away until it's time to revise before the test. The best students revise their notes every day upon returning home from classes. Why? Revising new material within 24 hours after learning increases its retention. Reviewing the fresh material won't take you much time, but will help the newly gained knowledge to transition to a long-term memory. Thus, the preparation before the next test or the homework assignment will take you less time and energy.
3. Schedule and organize your assignments
If you don't use a diary or an online planner to keep a record of all papers due, upcoming tests and other important activities, it's high time that you get started. Writing down all your college workload helps avoid missed deadlines and showing up for the workshop unprepared, as you'll have the list of assignments in front of you. This list of assignments will help you effectively allocate time to complete each of them on time. Managing your time is an indispensable skill you'll have to master as a college student, since your final grade depends on submitting assignments timely and preparing before tests. 
4. Understand your circadian rhythm
When planning and scheduling your learning activities, it's also important to take your circadian rhythm into account. Are you an early riser who feels energized in the morning and can't seem to concentrate when the sun sets? Then, it makes sense for you to get up earlier and complete the due essays and projects before the lectures. On the flip side, if you find it easier to concentrate only late in the evening when everyone else is asleep, adjust your schedule accordingly. Studying in your most productive hours will let you spend less time revising, writing and working on projects and ensure a better outcome.
5. Ask questions
If something is not clear about the subject of the lecture or you need help with an assignment, don't be shy to talk to the teachers. You might want to ask your questions right after the lecture or during business hours if you need more than a brief answer. As a rule, teachers and instructors are willing to help students who need some extra guidance. Not only asking questions proactively will help you structure the knowledge and understand the subject better, but it also will create you an image of a curious and ambitious student. Just be sure to avoid asking obvious questions – show that you've done your homework before reaching out to the teacher.
Need some help choosing a creative essay title? Check out the writing advice here: https://shinyessays.com/blog/creative-titles-for-essays-examples--advice.
6. Get rid of the distractions
When you use a laptop to complete a lion's share of your assignments, it can be challenging to eliminate the distractions. However, constant interruptions slow down the learning process and prevent you from immersing into the subject matters. So, when you study in front of your computer, log out of the email and social media and block notifications. Put your phone away so that it isn't in sight – researches show that smartphones serve as a huge distraction even if it's simply located next to you. Don't let the Instagram and snapchat notifications to distract you from the goal of becoming a better student.
7. Find a comfortable learning environment
To study for an exam or test, work on the creative project or compose an argumentative essay, you need an environment that will keep you focused rather than distract. Some students focus better in t complete silence of the university library, whereas others are more productive while listening to music in headphones or with a TV working on the background. However, it's important that people or other activities don't interrupt you as it will take you some time to focus again. The experts also recommend that you vary the study locations time after time to improve the concentration.
Want to gain some work experience while in college so that your resume doesn't look blank? Review these career consultant's tips on landing an internship: https://shinyessays.com/blog/how-to-find-an-internship-7-tips-for-college-students.
8. Use flash cards to memorize things
Flash cards work perfectly when you need to learn definitions, formulas, or words from a foreign language by heart. Write the important facts or details on each card and revise regularly. You might also write the question on one side of the card and the answer on the reverse to check your knowledge. The convenient thing about these cards is that you can revise on the go whenever you have a few spare minutes. Practicing every day will allow you to remember the crucial details of the subject, even if the course is quite demanding and requires memorizing a lot of details such as formulas, dates, etc.
9. Take full advantage of technology
There are lots of smartphone apps and online resources that can ease your learning process and make it more efficient. For instance, you might use Evernote to keep your notes organized and accessible from multiple devices. Istudiez Pro Legend allows you to monitor schedules, assignments and grades in one place, and XMind is of great help for mind mapping and brainstorming. Also, the internet offers a number of online bibliography and citation tools such as BibMe, Citation Machine, and others. They allow importing sources, referencing them correctly and automatic bibliography generation, which will definitely save your time on research paper writing.
10. Take regular breaks
This may seem counter-productive at first sight. Yet, when you work on papers or revise for long hours, it's essential that you take breaks every hour or less. Use these 5-10 minutes to take a walk, have a snack or a cup of coffee, or recharge in any other way you find effective. Without any breaks, you'll feel exhausted and lose concentration in an hour or two, which will make the further study less productive. Also, give yourself a day off study per week. This will help you to stay motivated for studies in the long run. Ideally, spend this day off learning involved in any physical activity you like.
Bonus: 5 tips to write better essays
If you want to study effectively and gain better grades, it's essential that you strengthen your paper writing skills. Here are some pro tips that will help you to take your paper writing skills to the next level:
Read essays written by other people. Just like any other skill, essay writing can be improved as you learn from successful examples. Read the good essays written by professional essayists or your peers. However, don't just passively read them: note what you like about those essays, the techniques used by writer, or the language they use. Think of how you can apply these techniques in your own writing.
Improve your vocabulary. A rich vocabulary helps you express your ideas more clearly and to be persuasive. Moreover, professors appreciate the rich vocabulary and right choice of words. To achieve that, you need to read a books in different genres, both fiction and non-fiction ones. Use a thesaurus to avoid repetition of words and take advantage of online resources that can expand your vocabulary.
Brainstorm and diagram your ideas. When you write a long, complex paper, it's important to put your thoughts in order, otherwise your argument may sound vague. You might want to start with a brainstorming section, writing down everything that crosses your mind. Then, organize your thoughts in form of an outline, diagram or mind map to see the connections and link between the ideas clearly.
Use the classic essay structure. The classic essay consists of an introduction, paper body, and conclusion. An introduction presents your position to the reader, body provides the examples and details that support your main idea, and conclusion sums up your findings and allows you to make your case. Stick to this structure and make sure each section sounds complete and provides enough details.
Edit and proofread carefully. Essays with poor syntax, grammar issues and typos won't bring you high grades. Put the written paper aside for some time and then return to it to read it with the fresh eye and fix any writing issues. Professional editors recommend that you read it aloud, check sentence by sentence and print it out. These techniques will help you find any issues in the written text faster.
Does the paper writing stress you?
Writing papers is an indispensable part of learning process. However, sometimes it turns into a real challenge to complete all writing assignments on time or to cope with an especially tough paper on the subject you're not comfortable with. The essay writers from our team can help you with any kind of writing assignment, providing you with a well-researched, 100% custom piece right on time. Take a look at the services and prices and contact us on chat anytime if you still have questions.