Large-format assignments seem challenging and tricky unless you read these tips. Composed by professional authors and editors, they give valuable pieces of advice and reveal secrets of successful writing.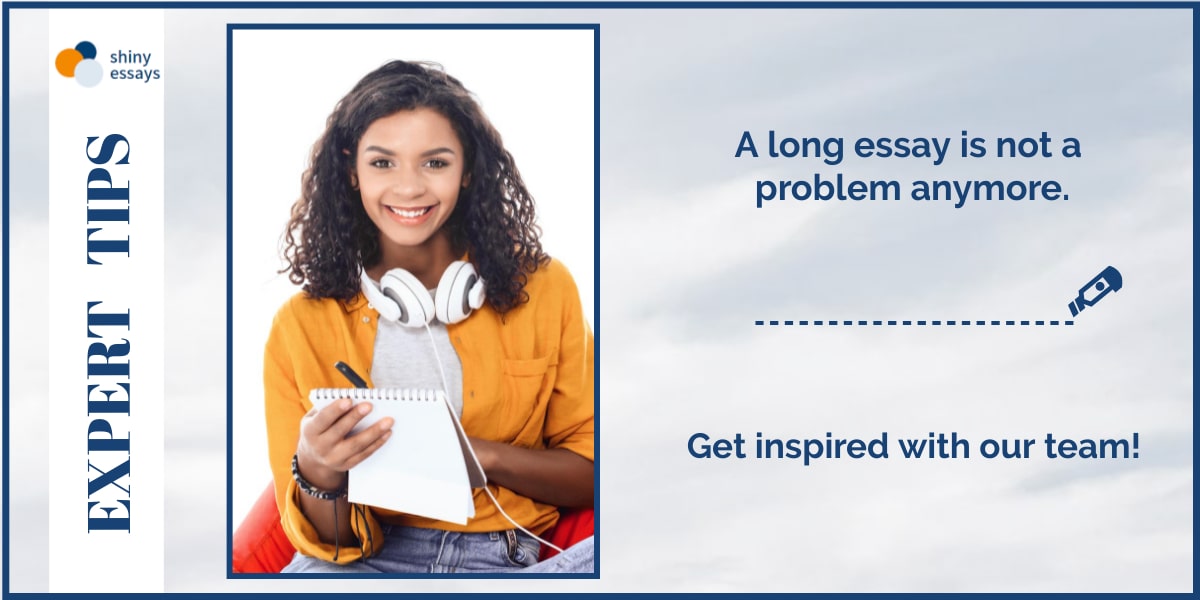 This article is helpful for:
college freshmen who used to write short school essays and now have difficulties with long texts;
blog writers constantly dealing with longreads;
aspiring authors working with long formats;
everyone who wants to write big texts and not to die of boredom and tiredness.
And if you search for quick solutions, our professional writing service is right for you. Whatever number of words you require, we'll create a perfect essay. Send us your assignment!
Considerable essay length & rules of work with it
A long essay is a relative concept. For someone, it can be about two thousand words, while for others, two pages seem very tedious and hence — long. Our recommendations can be applied to any texts that seem tiresome.
• Consider your instructions
Read your task attentively. It will help you avoid extra work. Pay attention to the topic of the paper, its context, the required number of pages, other crucial details. It's better to sort out everything in advance rather than to edit and rewrite big volumes of text afterward.
Helpful hint from our writer: If you use Google Docs try keyboard shortcuts Ctrl+Shift+C to see statistics on your essay. It helps you control the number of words and pages in large-format texts.
• Stay informative
A long format of writing in no way implies meaningless texts and misuse of introductory words. Every page and phrase must contain valuable information. Avoid tautologies and focus on the main points of the essay. The importance of your project lies in:
in-depth analysis of several data sources;
the logical explanation of the evidence to support your idea;
providing valuable findings.
• Make it readable
A long text is complicated to read and understand if it has no structure or logic. One paragraph should be about five sentences describing one thought. Do not build long tricky phrases: twenty words are the maximum number for one sentence.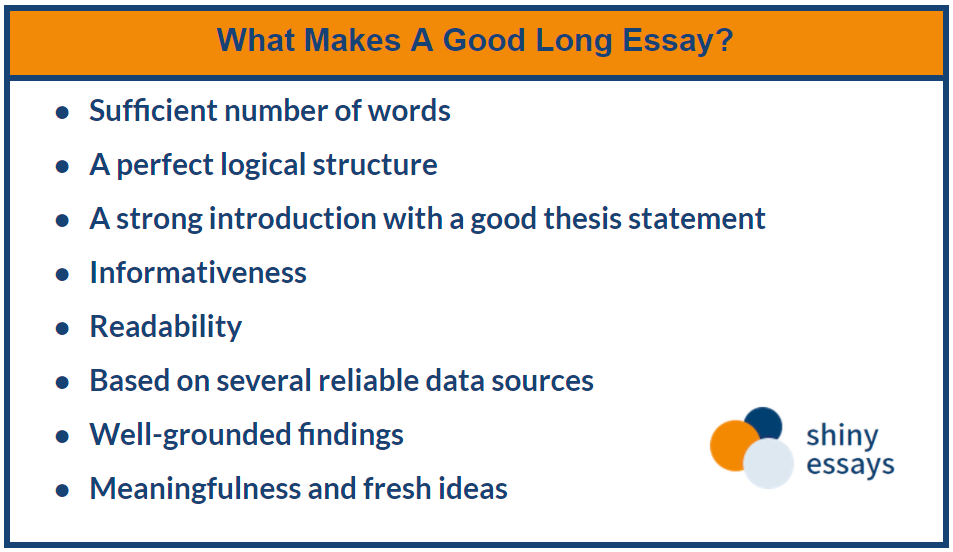 Writing a long text: Practical guidance
Successful work on a big-scale project depends on both a thoughtful plan and its correct prompt implementation.
• Time management for long essays
Short formats of writing rarely require serious time planning. You just make it like a sprint, in one move. Meanwhile, the 2000+ word essay looks like a marathon, and a well-thought-out strategy is decisive.
Having divided your long project into several little parts you'll deceive your mind. An assignment with a big number of words certainly does not seem scary, as the brain takes it as several little easier tasks.
Pay attention, that your work is not only about typing the text. When planning your time consider the following stages:
research the major data and study the necessary information;
compose the outline;
generate ideas and key findings;
compose the text;
revise and edit everything.
Done is better than perfect. This principle helps many companies, including Facebook, succeed in the contemporary world. Learn to stop; otherwise, your essay will turn into an endless project.
If you need a brilliant long report immediately, our team is willing to compose it.
• Optimize the process of essay writing
As a modern student, you might be constantly short on time. The following tips help you cope with long projects faster.
1) The purpose is decisive
It is easy to deviate from the subject when working with big volumes of information. So, firstly, formulate the core message. A good thesis statement will guide your further writing and keep your attention on the topic.
2) Build the outline
Set the frames for your text: come up with a heading and subheadings, determine the length of every chapter, write down the core theses, ideas for the conclusion and introduction. At this stage, you should not formulate all the phrases correctly, the point is to compose the plan and fix the most crucial moments.
3) Make a mind map to cover all the issues of your essay
A long-format text usually contains several ideas. Sometimes they arise chaotically, and it is challenging to organize them in one coherent essay. Contemporary online mind maps are convenient tools to systemize your thoughts and build a well-structured text.
Here is a sample of our map for this article.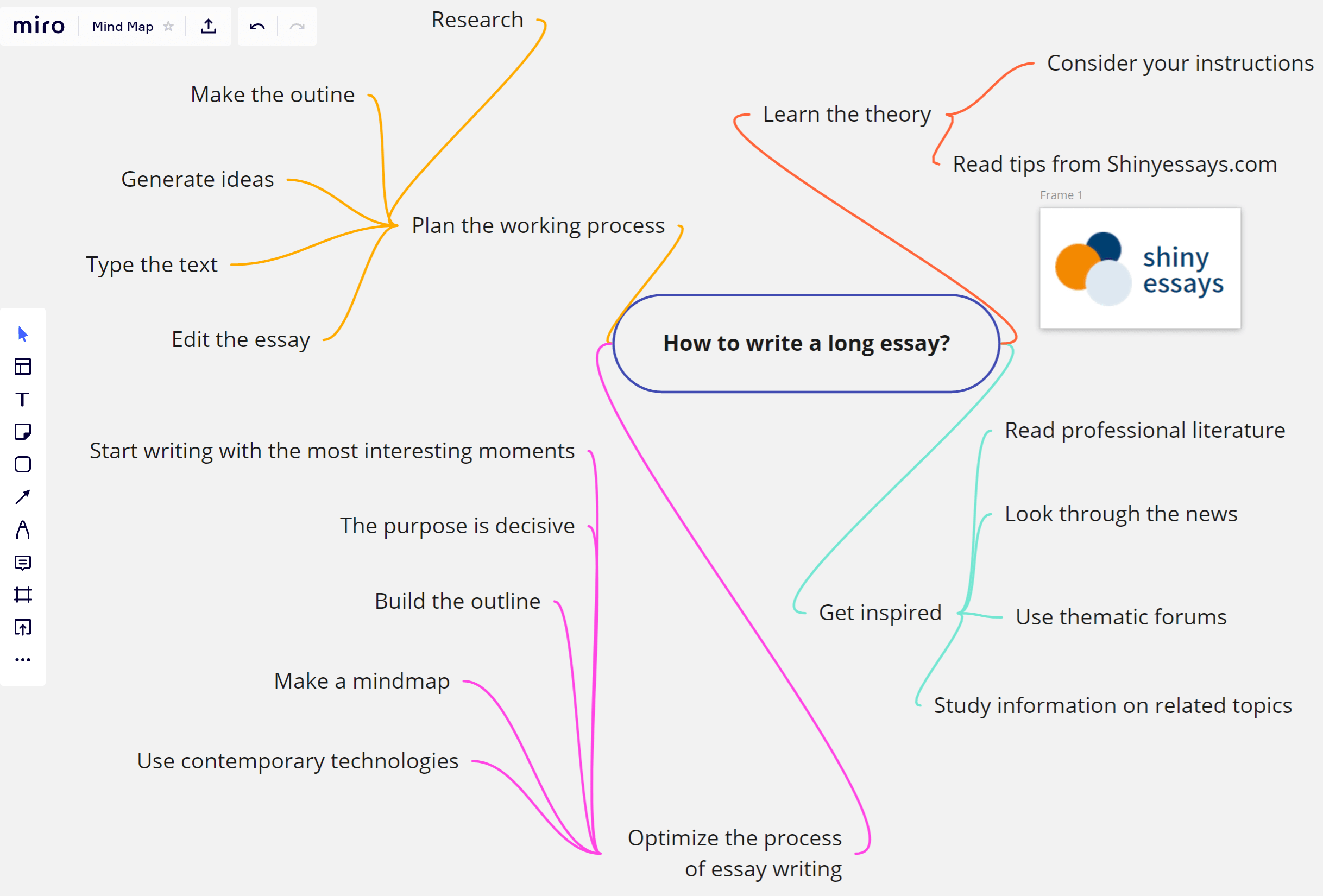 4) Start writing with the most interesting moments
Students often strive to compose everything coherently, chapter by chapter. Still, it can be very tedious for long essays: you have to come back to some episodes and rewrite them in the course of your work. For example, one might need to change the introduction because of an additional argument or idea. It is because new information appears, and it can influence the sense of different components of your project.
Having built a logical structure, you can write its paragraphs in any order and then quickly assemble them.
5) Use contemporary technologies to save your energy
Good long essays are not created in a blink of an eye. You might require several hours or days to come up with it. Thus, if you get a new insight while resting, fix your thoughts. Today you can easily do it on the go: cutting-edge voice typing technology records your speech and transforms it into digital text. Notepads in smartphones are also convenient to use.
Do not forget about grammar check software — such programs automatically catch a bunch of mistakes and, thus, save time.
Essays with word count 1000+: Where to find inspiration?
A short essay can be written in one breath, while three pages or more require significant time. And the reason is not only about a big number of words that need to be typed. It all begins with ideas.
Writer's block can become a big issue for both experienced and aspiring authors. The first ones have created hundreds of texts devoted to the particular theme and now do not know what else to say about it. While the beginners have no idea where to start. So here are some sources of inspiration for everyone.
• Read professional literature recommended by your college
Do not be afraid to ask your professor about new books or publications. He/she is willing to give a proper response and share links to suitable learning materials.
• Look through the news on your subject and the knowledge field
Online news portals provide actual information about various spheres of life, including science, education, research, etc. Learn about the latest trends and changes there.
• Use thematic forums
You could find the answer to your topic among the discussions on social media, professional websites, and other online expert platforms. Read previous dialogues and debates or ask your questions.
• Study information on related topics
Close spheres of knowledge can also spark a thought. For instance, if you study Economics, read some materials on History. You could notice helpful patterns in different economical situations or learn interesting historical experiences describing business relations.
Professional tip: Do not dwell on the stage of getting inspiration for a long time. Many ideas come during the work process.
Cannot cope with your essays?
Do not torture yourself if you lack the time or desire to work on long projects. The best is to turn to professionals, and our team is just what you need. We have enough practical background in composing large-format academic papers and creative content.
Bright imagination, wide knowledge horizons, and hard work enable us to brilliantly cope with the longest texts. Get rid of your exhausting tasks — order here!