Are there those among you who graduate college this year? It is a crucial milestone in the life of any young man. We here at Shinyessays.com remember this event: it was so thrilling, a little bit sad and, meantime, full of new hopes and aspirations.  Yes, our writers were university alumni back in the day. Several years have passed since then. So, today we can speculate on this topic using personal life experience and stories of other students.
Myths about life after graduation
A lot of things will change after you throw a graduation cap in the air. You might have been dreaming about this event for the last four years. But what is next?
You are no longer a student; a new status of the adult citizen sounds responsible. Yet it in no way implies the end of the youth, fun, and crazy ideas. Do not believe those who say that your further life will be centered around the job and home only.  On the other hand, you have to be prepared to face new challenges too. 
Academic writers from Shinyessays.com want to dispel the most common misconceptions concerning your new stage in life. Remember that everything is relative, and your story is unique.
⛝ You get endless freedom to do what you want
It is probably the greatest disillusion of adult life. You dream to get rid of the tedious and boring college assignments. Instead,  you get routine work responsibilities, a bunch of new bills, and taxes.
⛝ A college degree guarantees landing a dream job
A diploma is not enough to find a good position. Recruiters pay attention to personal skills and work experience too. Besides, an economic situation can change and entail a high unemployment level.
And even if you are lucky to get a dream job, you can be disappointed in a while. Your expectations might differ from reality. Say, a web designer is not only about creativity, as you could think. You will need to do a lot of routine tasks, as well as discuss the projects with a team lead and clients.
⛝ Work is easier than study
The beginning of your career can be rather challenging. You will have to get used to new tasks, rules, environment, etc. In most cases, your workday will last eight hours, and you will have to sit in front of the computer.
⛝ You will become another person
In fact, nowadays, graduation is not a super big deal. There is nothing special or life-changing about this event. Many students start working and renting an apartment long before graduation. For them, the only thing that changes is a new status - graduate.
⛝ You will finally earn a lot of money
Obviously, the level of your first salary depends on the college or university you graduated. The statistics say that alumni from highly respected academic institutions have a good starting salary.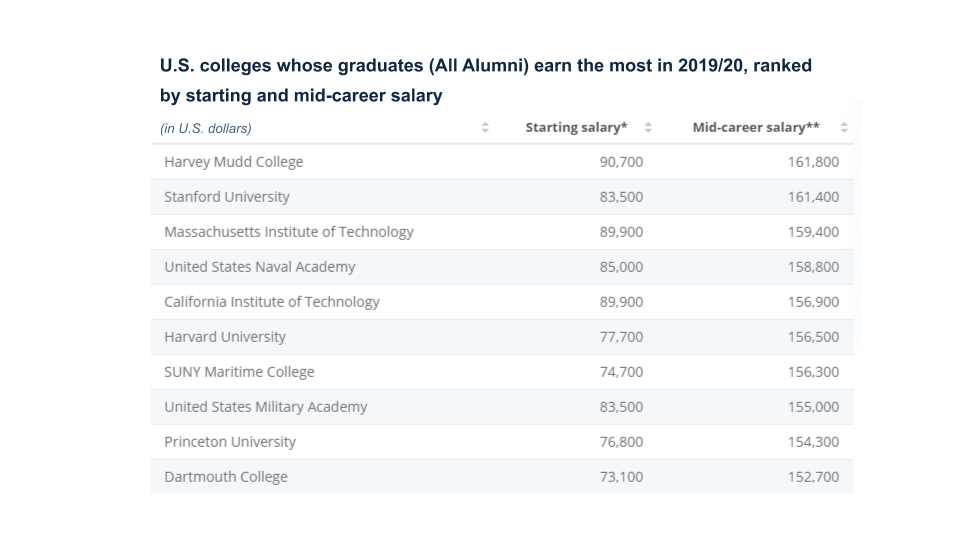 Image source: https://www.statista.com/statistics/244473/top-us-colleges-by-starting-and-mid-career-pay-of-graduates/
In most cases, the salary of the junior is not very high, yet you have to start somewhere. So, first, you will need patience and hard work to earn good money.
⛝ It will be boring
The fun does not stop after graduation. It finds new forms and places. The entertainment industry seems wide; besides, the higher income opens new opportunities for amusement.
⛝ You will finally stop learning
The contemporary reality requires lifelong learning. You will have to study new technologies, algorithms, patterns, internal rules of the organization, etc.
Your next year after graduation: facts of life
What to expect after leaving college? Nostalgia for friends, lectures, parties; great plans, new meetings, ups and downs, etc. You never know your future for sure.  We have selected the real cases you will likely face after graduation.
✓ A job
You might have different plans for your future life. Still, our wise academic consultants advise starting with a job search. Firstly, a serious full-time position will improve your financial state. Secondly, you will get experience. The longer you stay without work, the fewer chances to find a good job you have.
At least, try to find an internship https://shinyessays.com/blog/how-to-find-an-internship-7-tips-for-college-students.
✓ The necessity to make the tough calls
You will have to make a tough choice from time to time. The reality is you need to sacrifice something to reach success. The adult life is a constant search for a balance between a career and private life, money and free time, health and fun, etc.
✓ Unexpected situations
High school, college, and university had created a sort of frames for your life. You had a schedule and a list of tasks. The logic of events was clear: you had to do homework and other assignments, earn a good rating and eventually get a cherished diploma. Adult life after graduation is not so fair and understandable.
Realize that there are situations that we cannot change. It deals with someone's subjective opinion, a political situation, the mood of your colleague, sudden disease, the pandemic, etc.
When you go through these situations as a student,  you can count on support from your parents or friends. Still, when you are a graduate, you strive to adapt to these circumstances on your own.
✓ Just because you were friends at college does not mean that you will stay the same
The reality is you and your mates go your separate ways after graduation. Career opportunities and family circumstances create new changes for friendship.
✓ It is OK to be confused for a while
A new status might come suddenly. It is normal that you feel disoriented. You need time to evaluate circumstances, beat the graduate blues, and make new decisions.
Expert advice: Do not compare yourself with your friends and other graduates. It is not a competition who gets the job first. Choose your pace of life and take your time.
✓ You will be afraid but you shouldn't
The campus and college have become a sort of your comfort zone for these several years. It is normal to feel anxiety when stepping out of it.
Take new challenges as temporary obstacles on your way to success. After graduation, you might get an offer to move to the new city or region. If you are an international student, you will have to decide whether to come back home or stay in a foreign country. Do not deny them just because of fear — say yes to opportunities.
✓ Get ready to hear questions on your further plans all the time
After graduation, the most frequent phrase from your close people will be something like "what about your job?" or "have you already found a new apartment?" Apparently, your friends and relatives simply want to learn more about you. Still, when you hear such questions a hundred times, it irritates.
Lifehack from our writer: come up with a joke answer. Humor is the best thing to deal with annoying questions.
✓ Nobody will pity you
Being a young adult, forget about self-pity. Realize that you are the only one who determines your destiny. Do not count on help, as, in fact, nobody cares about your circumstances and issues. The understanding of this harsh truth will help you to succeed.
What to do after college graduation?
Alternatives to traditional full-time employment
A good job is the first goal for most of the graduate students. Still, a lack of experience prevents to find it. The team of our writing agency has selected several alternative variants instead of starting a professional career.
If you do not have financial issues, you can devote a couple months or even a year to soul-searching, journeys, good things, etc.
✓ Travel
A journey to a new place will bring a bunch of positive emotions, reassessment of values, fresh thoughts, etc. Watching a new culture, nature, people, you broaden the horizons of the mindset. This experience might be no less important than a college education or internship.
If a financial issue matters to you, become the one who organizes trips. If you are a mature traveller and know some awesome routes, try yourself as an adventure guide. You can establish your own project or join a tourist company as a part-time employer. By doing so, you will mix business and pleasure.
✓ Become a tutor
Knowledge and skills you got at college open wide opportunities for you. They are not restricted to the profession only. For instance, become a private teacher and help schoolchildren to study. As a native speaker, you can be an online English tutor for foreigners. They will appreciate not only your competent assistance but tips for successful learning too https://shinyessays.com/blog/secrets-of-successful-study-you-havent-heard-before. 
✓ Volunteering activities
If you have a kind heart and a sincere desire to support others, join one of the volunteer projects. There are a lot of US and foreign companies providing various types of help to needy people. Your enthusiasm and young energy could come in handy.
✓ Consider self-employment
Try yourself as a young researcher, scientist, entrepreneur. When implementing your bold ideas, do not forget to analyze the profitability and potential threats for your business. Find crowdfunding platforms to get money for your startup.
✓ Turn your hobby into a job
It happens that your passion can become the beginning of your successful career. Say, apart from your professional academic skills, you are a gifted painter or an experienced yogi. Find like-minded people and organize a business project.  In fact, nowadays, you are free to monetize practically any talent.
Building a career around your passion is always a good idea.
This approach helps to prevent burnout at work, as well as ensures high motivation. Even when you eventually opt for a full-time job, your hobby will become a source of passive income.
✓ Continue study
If you have a keen interest in your profession, you can keep studying. Expand knowledge and earn a doctorate degree. It will raise your professional level and status. Another way is to study related fields and get additional skills.
Graduation is a step into serious adult life. Now you are the only one who sets goals and determines priorities. No more strict college rules: schedule, assignments, projects, homework, etc. It is time to start creating your dream life.
And writers and editors from Shinyessays.com are always ready to support you with helpful consultations and competent writing assistance.