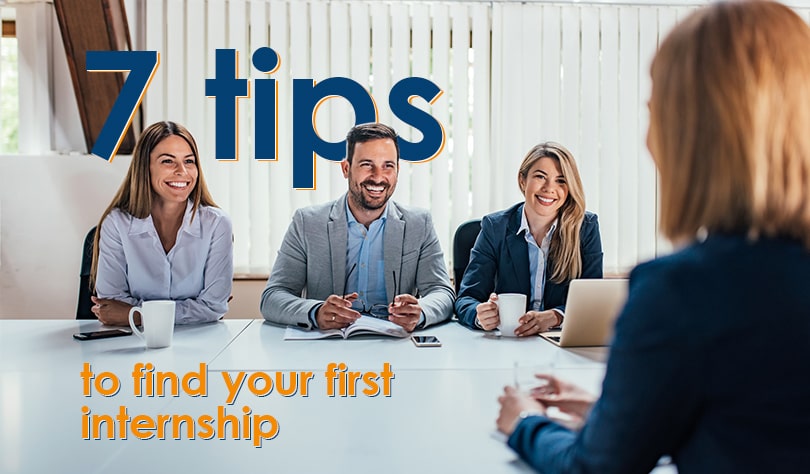 Professional advice on landing an internship with ease
Your college degree is definitely an asset. However, it will not suffice to meet the demands of the best employers. Today, the top companies prefer hiring young professionals who already have some sort of professional experience. Internships, both paid and unpaid, are a great way to gain this real-world experience and prove that you've got what it takes to succeed in an entry-level role.
Landing a good internship isn't a simple task itself, though. To help you navigate through this process, our professional essay writers have put together some advice for students and graduates craving to skyrocket their careers. Continue reading to find out where to look for the best options, how to apply and how to pass an interview with ease.
Get a hand of help with the toughest papers
Combining college studies with an internship can be a grueling experience, especially when you have tons of research papers to write. Bring the balance back in your life and don't freak out if the professor accepts your essay. The talented paper writers from Shinyessays.com can assist with the paper of any complexity, from a book review to a PhD thesis.
Flexible prices, timely delivery and free revisions have made us a go-to paper solution for thousands of students. Entrust your paperwork to us, and you'll see how easy it is to work as an intern without compromising your college studies.
How to land your first internship?
So, here you are – a student or graduate looking to gain real professional experience. Although the competition for internships is as high as for the jobs, these tips will help you stand out and get the desired offer:
1. Expand your search area
Looking for internships online using the job boards such as Indeed.com and Glassdoor.com definitely makes sense. Yet, using job boards as the only source of opportunities limits your number of available options. Here's where else to look for internships:
Check out what your college has to offer – all colleges have a career center or website where the affiliated employers are looking for fresh blood. Be sure to check with your college's internships and job postings. By the way, some career centers also offer interview preparation and career advice.
Ask the people you know for help – if someone puts in a word for you, it can help you land an internship in no time. Ask the alumni, professors, family and friends if they can introduce you to some company that is currently hiring. Networking is the most effective way to look for jobs and internships, so make sure you are fully using your network's potential.
Attend career fairs – these specialized events for students can be a goldmine of companies looking for interns right now. Follow the events organized by your university or in your area and see what they have to offer.
Reach out to the employers directly – do you have a list of dream companies you'd like to work for? It will do you any harm to send them letters of interest inquiring whether they offer internships at the moment. You might stumble upon some great opportunities which aren't advertised.
2. Create strong application documents
A resume and a cover letter are your first touchpoints with the prospective employers. So, you want these documents to present you in the best possible light. Here's which exact papers you'll need to apply for internships:
Resume – make sure to accurately represent your education, work history and other information such as volunteering, awards, research work, languages, and skills. As a student, you should put your education above work experience and show off your academic achievements, if any. In case you've never worked before any unpaid experience – even helping with a family business or babysitting the nephews – can be mentioned.  
Cover letter – the letter should complement your resume data and persuade the reader that you're the right person for an internship. Present the most notable facts from your academic and professional background, show your potential, or tell a story. Sending a cover letter shows your genuine interest in the opportunity and is welcomed in most cases.
Letter of recommendation – ask the trusted professors, supervisors, or someone else who knows you professionally to recommend you for an internship. Before you ask someone to write a letter, gently wonder how would they describe you to a prospective employer to avoid getting negative feedback.
Online profiles – your Instagram or Facebook aren't the part of the application process. Yet, the hiring managers will inevitably look up for you online. So, clean up anything unprofessional or inappropriate that can be viewed negatively by an employer.
Want to strengthen your essay writing and editing skills? Check out some pro tips: https://shinyessays.com/blog/college-essay-writing-workshop.
3. Be selective of the employer and the industry
When you have zero professional experience, you are probably keen on getting any internship just to fill that gap. However, choose carefully. Your first internships might become a springboard for the further career development. Choose a field that is relevant to your career interests in the long term. It might take you a bit longer to land an internship with this approach, but having gained relevant practical experience, you'll find it easier to land paid employment afterward.
The same works for the company's name. Just like an internship at Google turns you into a top-demand entry-level professional, an experience at the company with a not-so-good reputation might hazard your further chances for employment with a worthy company. Aim at the best companies where you could potentially get in.
4. Create a budget for your internship
Not all internships come with compensation. 40% of internships don't offer a salary, and if your target company is one of them, it's time to think about how you will make a living while gaining the experience. If that's a summer internship, you might want to find a part-time job as a waiter, cashier or a freelance writer. Maybe, your parents can afford to support you financially for a few months until you find paid employment.
Calculate the expenses before landing an internship and decide whether you have the money it takes. If you don't, you'll have to eliminate the unpaid internship options and focus on paid ones only. Or, you might decide to eliminate the internship stage and look for entry-level jobs straightaway. This road is tougher, but if you've gained some experience through the extracurricular activities and volunteering, it's manageable.
Curious to know how the student of the future will look like? Find out here: https://shinyessays.com/blog/a-student-from-future--portrait-based-on-expert-views.
5. Master the interviewing skills
Once you've started sending out the resume, start working on your interviewing skills simultaneously. The first interviews are often unbelievably scary, and it's only through preparation and practice that you can make a good impression on the employer. To ace that interview, focus on the things as follows:
Research frequently asked interview questions. In most cases, potential interns are asked similar questions about their future goals, strengths, weaknesses, as well as a few behavioral interview questions. Look up for those questions online, prepare the answers at home and practice in front of the mirror.
Find out more about the company. The very least that you should do before an interview is to browse their website and read a few articles about their most recent milestones and goals. Candidates who have done their homework are viewed more positively by the hiring managers as it shows genuine enthusiasm.
Learn to cope with nervousness. Panicking before an important interview is very common for students and graduates. On the flip side, shaking legs and trembling voice won't help you make a great impression. Master the ways to calm down your nerves: do breathing exercises, repeat the affirmations or go for a walk.
Learn the interview do's and don'ts. There are specific interview habits that turn off the interviewers. Showing up late, bringing coffee-to-go and answering calls are just a few of them. Learn the basics of interview conduct so that nothing could prevent you from making a professional impression.
6. Display the right attitude
When talking to a hiring manager on the phone or answering the interview questions, it's important to show the right attitude. Employers want to see your enthusiasm and willingness to learn from others on the go, so be sure to highlight these traits. Also, the interns in the company are often assigned a wide range of tasks, from making cold calls to fetching coffee for everyone in the office. Show that you are flexible and ready to perform a wide range of tasks as assigned.
Also, it will do you a lot of good to learn the basics of work etiquette. Respond to calls and emails on time and in professional manner, be grateful for recommendations, and focus on bringing value to the potential employer. These tiny details add up to an overall impression about you, and can strengthen the positive impression you're trying to make.
7. Follow up professionally
As you've left the office after the interview, your work is not over. To make a professional impression, do follow up with the interviewer in 24 hours after the interview. Thank them for their time, mention the points you've forgotten to bring up during the conversation and express the interest in working for them. Not many students bother to follow up, so you'll definitely be noticed and remembered.
What if the interview went well but nobody got back to you after that? Checking the application's status is acceptable and welcomed, but don't hurry up. Calling the next day to find out if they will hire you is a bad tone. Wait for 1-2 weeks depending on the company size and then get in touch with the hiring person via email or the phone to inquire about the status.
Nailing a good internship is quite possible with a good deal of persistence and the right attitude. Know your goals and stay professional, and you'll get hired in no time.
Bonus: 3 tips to make the most of your internship
Once you've gotten an internship, you get curious about how to make a great impression and get hired. Our consultants recommend following this advice to make your internship a success:
Familiarize yourself with the company and the role. Sounds trivial, but in fact, very little interns do the proper homework when it comes to knowing as much as possible about their employer and the job. Learn the company's milestones and goals as well as the dress code, etiquette and language – use the employee handbook for reference. Also, clarify the expectations from the position to make sure your performance meets the mark.
Set professional goals. Even if you are assigned menial tasks so far, make sure to talk to your supervisor and set goals. Clarify what you are expected to accomplish daily, weekly and monthly. If the goals weren't set for you from day one, take the initiative and schedule the meeting with the boss. Make sure to ask for regular feedback – this is the only way to ensure that you meet the standards and grow professionally.
Watch others and learn on the go. You've landed an internship to gain professional skills, so use this opportunity in full. Assist the senior professionals, shadow the work of others, participate in meetings and don't be shy to ask questions if something isn't clear. If you approach things proactively and stay enthusiastic, the others will be willing to help.
Maintain the balance in life with professional essay help
When the internship keeps you busy, it's hard to find time to compose analytical essays, research papers and presentations. If you need help with any of these paper types, a reliable helper from our team will prepare them according to your instructions and professor's expectations. The writer will work on the paper until you are fully satisfied.
By the way, our professionals can assist you with resume writing, too. An experienced resume writer will revise your old resume to make it perfect or create a brand new one for you. Thus, your chances to land a dream internship will skyrocket. Take a look at the services we offer and prices, and don't forget to talk to us on chat to claim your personal discount.