An outline is sort of skeleton of your essay. It is extremely helpful when you have a writer's block. This plan organizes ideas and ensures a proper structure for your piece. Having delegated this assignment to mature experts of Shinyessays.com, you get the best basis for your future paper. You are also free to order any writing services on our website and stop worrying about outlines, essays, and all that jazz.
Essays outlines: definition & purpose
An outline is a scheme of the text setting its logical sequence and focus. Types of plans vary according to goals and forms of texts. We know all of them due to our vast writing experience. That is why you can always rely on our competent assistance. Or, at least, read these helpful tips.
An essay often implies freedom of thoughts. Meantime, one cannot cross the line where a chaotic narrative starts. A well-considered blueprint is a guarantee of a clear story.
This blog post was created on the basis of our authors' practice and materials from popular Internet resources. We also took into account the official recommendations of American colleges.
An outline for an essay: how to make the best one?
Creativeness is an awesome talent, yet one needs to apply imagination within certain frames. Otherwise, do not expect to get appreciation. An outline is just that thing that sets borders for the flow of ideas.
Any text should have a logical structure. No matter what you write, a case study, a report, a speech, you need to adhere to a proper plan.
     Why does an outline matter?
   ✓ Keeps focus on the main issues  
   ✓ Helps to generate ideas
   ✓ Ensures a proper structure
Just think, even when you write a post on your social media account, you have a brief blueprint in the head. Let alone big projects and academic treatises. 
"Freedom of creativity" sounds great. As a rule, students get it with free topics. Yet, it is not that simple, since you get more responsibility. Now, you are the one who chooses a style of writing, the sequence of ideas, the content itself, etc.
Yes, you can write an essay in one breath without any strict structure. Sounds good. Still, you might need to rewrite it afterward. It happens that we type a bunch of words in a couple hours and then edit and revise it for half a day. The thing is that you need to write what readers expect but not all thoughts from your head.
The best way to put your thoughts together is to come up with a plan.
 Ok, but first, an outline...
You could have an outline in your head. Yet, it is not convenient to keep it all in mind. You'd better take a sheet of paper and put the main thoughts. Use Google Docs, Google Keep, Evernote, or any other online tools for notes if you are a gadget lover. The main thing is not to lose valuable ideas.
One can compare an outline with a basis for a crystal. An author "grows" the further content on this "scheme." Every text needs this plan. It could be a virtual sketch on your gadget, some phrases on paper, or a clear image of this pattern in your mind. So, do not ignore this step on the way to your successful essay.
Learn more about writing from our blog post https://shinyessays.com/blog/top-10-tips-for-essays-writing-in-2020.
Actually, there is no one universal outline for all types of papers. A narrative essay can start with an intrigue. A descriptive one - with some theses. As for a cause-and-effect report, it should, above all, be written in accordance with strong logic.
Experts of our professional writing agency have prepared general guidance on composing essays.  One can take it as a basis, source of inspiration, or something to go on. 
A universal 5 paragraph outline for your essay
As a rule, any piece of writing has three parts: an introductory piece, a body, and a concluding section. The pain part, in turn, is divided into three items.
#1 INTRODUCTION
It implies one or two paragraphs describing the core issue of the paper.
Helpful tip: When writing this part, ask yourself: "How to spark the interest of readers?"
# 2 BODY (IN 3 PARTS)
Prove your point of view here. We offer to do it using some of the following schemes:
The sense of this method is to explain every thought step by step.
"Facts - conclusion" (reverse way)
One can provide arguments first and then make a suggestion.
Repeat these schemes as many times as needed. In fact, the number of these loops is equal to the number of cases you want to clarify.
To make your essay compelling, find strong argumentation. The more facts you provide, the more convincing your paper is. You can put the thesis either at the beginning or after these clarifications.
By "thesis," we mean a short, complete thought, which the author wants to convey to the reader of the essay. As for argumentation, we take it as illustrative data proving a certain thought. Depending on the assignment, you can use a situation from life, calculations, official news, results of scientific research, etc.
Expert opinion:
Talking about common college essays, we advise using two arguments for each hypothesis. One fact comes across as weak evidence. Three and more cases, in turn, overload a reader.
Obviously, a lot depends on your intentions and the style of the text. The required volume of the paper and the depth of your thoughts influence this part too.
# 3 CONCLUSION
The last paragraph is usually devoted to summarizing. It should be a logical ending of your story https://shinyessays.com/blog/essay-conclusion--example-words--phrases.
Outlining the main body of the essay
The body of the essay is the longest section. The important thing is to follow the logic and not to jump to conclusions.
For instance, you can go from simple to complex, conduct analysis or synthesis, use the method of deduction and induction.
Try this method to make your story coherent. It is often used by our professional authors:
choose the theses;
select several arguments for each thesis;
arrange theses, so that they can be seen as the logical sequence (one thought should flow from another one).
The value of a good outline lies in a detailed plan for the future text. It pushes you to proper thoughts. All you need is to develop ideas about the main points of your outline. Thus, think about the logic and cogency in advance - establish a well-considered plan.
Practical tip from Shinyessays.com: Start from the main thought! We give this advice to everyone who is stuck with writing assignments. In doing so, you will quickly adjust the introduction and conclusion to the body of the text.
Ways to write a perfect essay plan: pro methods
Theoretical rules and recommendations on composing outlines can be not enough for you. To boost the process of writing this plan, we offer some practical tips. 
1. Paper and pen
Write the main thoughts by hand to concentrate attention on the main ideas. This technique sounds outdated, still it develops imagination.
2. Chaotic brainstorm
Put all your suggestions on paper. Choose and organize them afterward.
3. Method of a snowflake
Write the core issues first. They are the main "lines" of your "snowflake." Draw the further pattern, developing every thought.
It happens that you are lazy to come up with an outline. Your professors never understand a lack of time or desire as a good excuse. But we do. That is why we offer our services. A few hours - and everything is ready!
Here are some more recommendations from our agency:
FREE outline templates for essays
Shinyessays.com does not only provide first-rate writing services but offers helpful advice. Here are some samples for your practical usage. We prepared them in accordance with modern college standards and our clients' recommendations. Our personal materials and professors' instructions were used during preparation.
⇨ Universal outline template
1. Introduction:
raise a core question,
describe the main issue briefly.
2. Body:
first idea,
evidence supporting the first idea;
second idea,
evidence supporting the second idea...
3. Conclusion:
wrap up the main thought,
add a catchphrase.
⇨ Compare and contrast outline template (for two items)
1. Introductory paragraph:
present objects (A and B) that you are going to describe,
explain why you decided to compare them.
2. Body paragraph 1:
3. Body paragraph 2:
4. Body paragraph 3:
show the advantages and disadvantages of the first object A,
depict pluses and minuses of the second item B.
5. Concluding paragraph:
choose the best variant,
prove the right choice (briefly).
⇨ Outline template for a research essay
1. Introduction
1.1. Identify the object of your paper.
1.2. Show the value of your essay for science.
1.3. Tell how you are going to solve the issue (mention your methods).
2. Main part
2.1. Formulate a research question.
2.2. Reveal how the problem is solved today.
2.3. Present your findings:
ideas + evidence (calculations, references, examples, statistics),
positive consequences of your solutions,
a possible negative impact and the ways to handle these obstacles.
3. Conclusion
briefly formulate the whole point of your treatise,
come up with a catchy abstract.
⇨ Outline template for a narrative essay
Let's take a review of 'The Lion King' as an example.
1. Intro
1.1. Catch attention with a hook
It is the only cartoon that made me cry. A touchy story about true love and friendship melts hearts and inspires us to do good.
1.2. Tell a backstory
Mufasa is a powerful king and a good husband. His happy life is spoiled only by Scar's envy.
2. Main sections
2.1. Start the story
A lion cub Simba is born to continue his father's great thing...
2.2. Introduce characters
The story revolves around Simba, his friends Timon and Pumbaa, a soulmate Nala...
2.3. Describe the conflict
Scar dares to get rid of Mufasa...
2.4. Demonstrate core events
The lion cub leaves Pride...
2.5. Depict the endgame
Simba gets a deserved throne...
3. Ending part
3.1. What is the moral of your story?
The world belongs to those who do good. Only a decent lion deserves a throne.
3.2. Write a takeaway message
Your destiny is in your hands. You are the only one who is responsible for your present and future. Even if everything goes wrong, find forces to fight obstacles and Hakuna Matata.
A famous essay with an outline example
Tips and schemes imply mainly theoretical recommendations. Let's see how it works in practice. Take an essay by Angelina Jolie, for instance https://www.nytimes.com/2013/05/14/opinion/my-medical-choice.html.
We can assume that its plan is close to the following scheme:
#1 Introduction
It hooks attention with a touching example.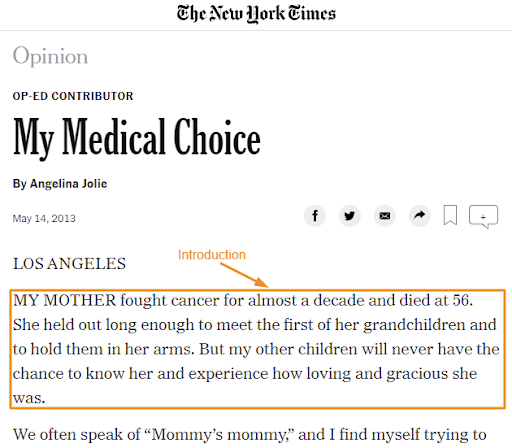 #2 Problem statement

#3 Solution

#4 Detailed explanations of the problem resolution
#5 Strong argument proving the right choice

#6 Conclusion
Here we read a key message of the whole essay. It states that one can prevent a serious illness with the help of a gene test.

So, what is your plan?
An essay outline is not the only issue you face at college. Still, having a good plan, you will compose a text faster, for sure. It is all about putting thoughts together and boosting imagination. This part of writing is definitely worth maximum attention. We advise you to take it with great seriousness. Otherwise, order it from professionals of Shinyessays.com. We can come up with a plan for any text, or write the whole paper.