The assignment to tell the story of your life seems easy, yet this first impression is misleading. In fact, you have to select the most suitable arguments, find proper words, monitor your image, and ponder over many other crucial moments. We'll tell you how to do it with ease.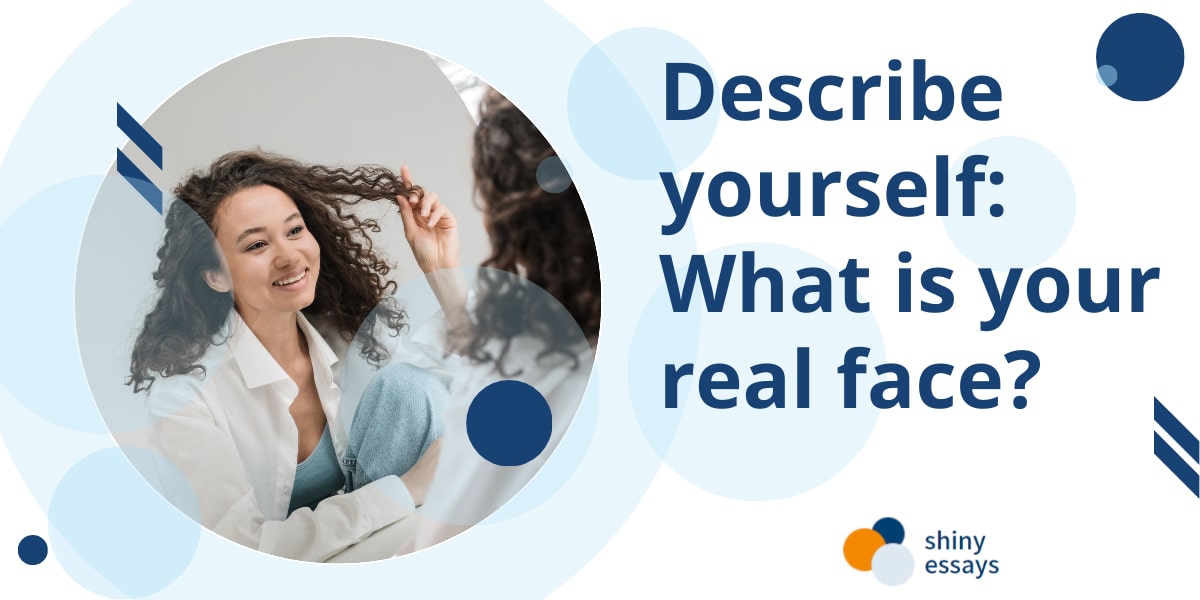 It is our belief that every person has an interesting biography. The thing is to convey it correctly, and we are here to explain all the nuances.
Valuable tips of this post are successfully applied to:
admission essays and personal statements;
scholarship papers;
routine college assignments on topics "about myself;"
website content ("about me" pages);
personal profiles and posts for social media.
Essay writing step-by-step
First of all, you need a good plan of action to determine frames for creative work and the writing process.
1) Decide on the goal
It all begins with the understanding of the purposes. The point of the personal essay is to reveal information on its author. Meantime, such assignments are given in different situations: admissions boards want to learn more about applicants, professors become acquainted with students, users would like to know fascinating facts about the website team, etc.
2) Get inspired
Our helpful tips might not be enough to unlock creativity. In order to receive more ideas, review several famous essays devoted to personalities, read books on this theme, see films, whatever. You must not find and study new information, think about materials that you have already seen before.
3) Plan your story
A well-thought-out outline saves you from unnecessary work. Set the priorities and borders for the "describe yourself" essay. Come up with the core theses, analyze everything, and cross out redundant points.
4) Think about your vocabulary
One can discover thousands of phrases reflecting the personality. Find the best words precisely for your individuality and write them down. By doing so, you will clearly understand your core features and easily come up with further text.
Our list can spark a thought — we have selected some good variants for different categories of people.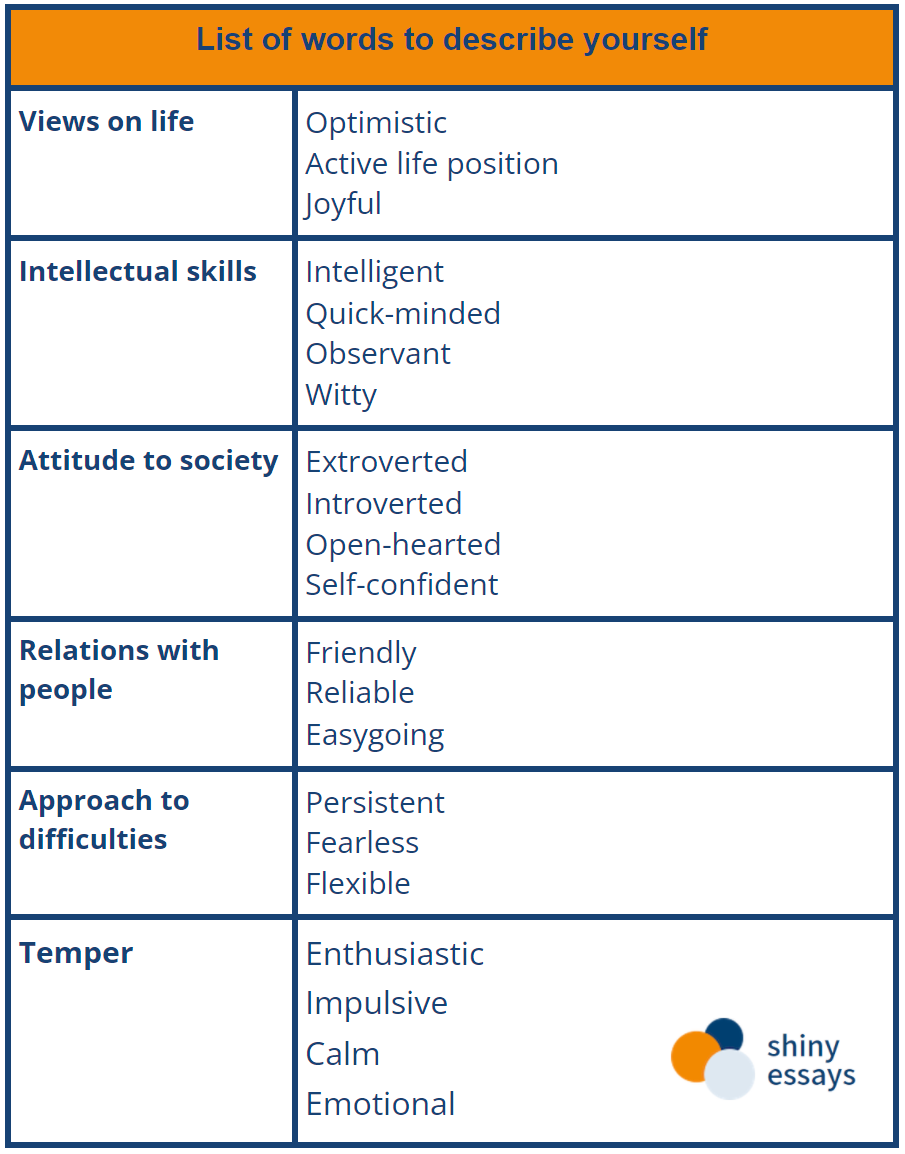 Useful comment: Adjectives add beauty to texts. Meantime, if you want to make your story compelling and dynamic use more verbs.
5) Compose and revise the text
You will quickly write an essay if you have prepared a good plan, theses, and ideas. Do not forget about classical rules such as spelling and structure. Everything beginning from the introduction and to the last paragraph must be written with respect for grammar and readability.
Revision and editing help you eliminate typos and thus craft the best version of your story.
Helpful hint from our academic author: Try to look at your life from the outside. Due to such an approach, you receive an honest impartial essay. And herein lies the value of your work.
High school essay about yourself: List of questions
If you do not know where to start your story, our thought-provoking questions will awaken your imagination.
What inspires you?
What are your life goals?
Do you consider yourself a creative person? Why?
Did your parents make a big impact on your life?
What do you think about the contemporary family institution?
What is your vocation?
Do you have any professional interests?
Could you turn any of your hobbies into a future profession?
Could you tell us about your career goals?
How do you maintain the life-work-study balance?
What do you believe in?
What is your biggest interest and passion?
What do friends and close people think about you?
Let your replies to these questions be clear and informative. Do not stop at the short answer: develop the thought and try to tie the parts of your work into one coherent story.
How to write an essay about oneself? 4 Practical strategies
This assignment can be turned into a fascinating adventure. Imagine that you are a screenwriter of the biography movie. How would you describe its main hero? Here are some ideas to stimulate your self-reflections.
#1 Spontaneous ideas
Come to the mirror, what person do you see in it? Write down your first thoughts, as a rule, they turn out to be the most honest and suitable for your essay.
#2 Follow a good example
Find biographies of famous people and try to imagine that you are one of their heroes. For example, Bob Dylan, Anne Frank, Agatha Christie wrote exciting autobiographies. Do not copy or repeat someone's text — take it as a starting point for your story. Analyze and notice the given information and its sequence. One can also use character descriptions for this purpose.
#3 Recall the memories
Look through your pictures, read the diary, analyze your social media accounts, review messages with friends, etc. The flashback to your childhood, crucial episodes, bright emotions make a general picture of your individuality.
#4 An outside perspective
Interview your friends and other close people: ask them to describe your portrait. You could learn some new details about your character, deeds, personality, and other related facts.
Do not have time to complete the essay? We're here to support you. Professional authors are willing to create the best-ever story just for you. Let's discuss it — contact us on the chat!
Shape ideas for your personal essay
We hope you have already collected a bunch of information for your future text. Now, your goal is to choose the form and the manner of writing. Show your personality through the prism of an interesting story — we have prepared a list of nonstandard solutions. If you do not have any strict rules, feel free to use them.
1) What if you could come back to the past and meet the former self?
What would you like to tell this person? Do not give up on the hobby? Do what you love? Mention the reasons for your decision.
2) Imagine a short clip about yourself.
You do not have to record video or audio; the sense is to come up with its script. What do you see in the shot? A decisive conversation with your father devoted to the choice of your profession? Achievements of your university life? The first date?
3) If you could create a new universe, what would it be?
Describe your dream planet or city. What knowledge and skills will you apply to build this world?
4) If life is a competition, what contest do you win?
Name your biggest accomplishments and victories. Who do you think is responsible for the result? Is it only you, destiny, family, or someone else?
5) Imagine, you are giving an interview. How would you explain your achievements?
Popular success stories often show one day that has changed the life of the hero. You can choose this strategy or vice versa. Explain that you do not believe in miracles and lucky chances; instead, emphasize that every accomplishment is the result of your hard work and wise decisions.
6) Visualize your personality.
What makes you stand out among others? Imagine that your concepts, interests, fears, dreams become visible. What would they be?
A quick tip from our research writer: Draw your thoughts. This method stimulates brain activity and shapes new ideas.
What plot have you liked most? You can choose any variant, and our company will create your personal story on its basis! Order here.
Personal essay: Tips you might have never heard
• What are you, and what does the reader expect to learn?
We are sure you are an interesting person with an in-depth inner world and wide intellectual horizons. Hence, your story can be long and eventful, yet do not try to tell everything — consider the goals of this assignment. Who is going to read your essay?
If it is the admissions board, focus on the strengths making you the best student.
If you write a post for your commercial blog, show your expertise, skills, and talents, contributing to the positive image of your brand.
Is it your personal statement for the job search? Find facts at the intersection of your capacity and position description.
• Avoid a big number of templates and cliches
You are unique, and your essay should highlight this fact. The above lists and templates are given to illustrate the rules of writing. Take them or any other examples as sources of inspiration for your story. Yet do not copy everything blindly. The point is to choose the most suitable words and phrases best describing your personality.
• Do not try to build an ideal image
Honesty is a rare and valuable feature, so do not betray your views and dreams when composing the essay about yourself. Write fairly from the bottom of your heart. Such an approach guarantees uniqueness.
Professional assistance with essay writing
You could have circumstances when individual efforts are not enough to describe yourself in the essay. It deals with a lack of time, insufficient writing skills, reluctance to discuss your life, etc.
There is a simple solution to all these problems — turn to our experts. We have already created hundreds of successful biographies, personal statements, resumes, and other texts devoted to individuals.
Let's build your shiny story now — place the order here!