Uniqueness is the biggest value in the academic world, that is why anti-plagiarism rules are so strict. It is evident that copying someone else's work is not acceptable but what about using your previously submitted or published materials? Let's clarify everything with our experts.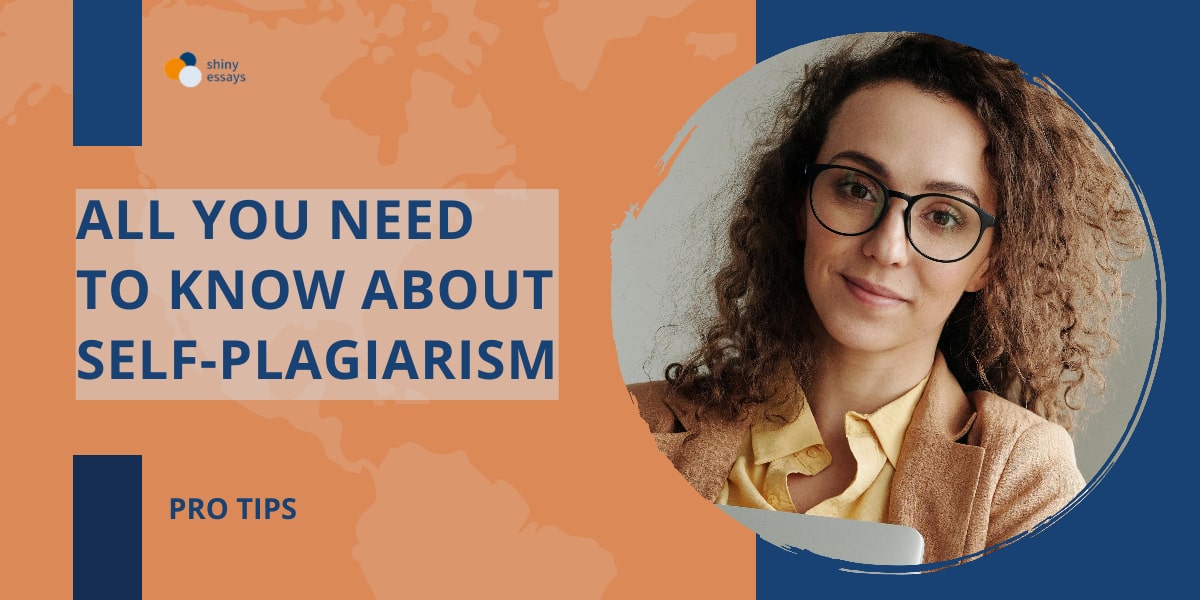 Having read this article, you will find out:
clear explanation of self-plagiarism;
crucial information on the matter of plagiarism;
effective ways of how to avoid this issue.
Do not have time to sort out the details of plagiarism rules? Send us your assignment, and we'll create your 100% unique essay or research paper!
5 Facts on students' self-plagiarism
Plagiarism may turn out to be an obstacle to your academic goals even when you do not expect it. It's all about unfamiliarity with contemporary academic standards, rules of citing, and software detecting scams in this sphere.
#1 What do we mean by self-plagiarism?
The concept of self-plagiarism implies using your previously published or submitted materials for new purposes. It could be the whole text or several of its parts. Importantly, paraphrasing without adding new ideas is also an element of plagiarism. It is usually allowed to mention old materials only if you cite them correctly.
#2 Self-plagiarism is not a frequent problem
Good news: the education programs usually imply different topics and assignments for one student. It deals with all disciplines, both hard and soft sciences. The tasks and their themes change in the course of the learning process: they are getting more complicated, comprehensive, and interesting. So, it is practically impossible to face self-plagiarism issues.
#3 Different views in the academic writing world
The rules concerning self-plagiarism vary depending on the country, college, and the professors. It is all about the thin border between plagiarizing and expressing similar opinions on one topic. Here are the most popular situations.
A student works on a new project (coursework, term paper) and cites the results and findings of his/her old report. If he/she has permission from the professor, it is not an issue.
Academics use the outcomes of their previously published articles and base the next scientific reports on them. This situation is understandable, as it demonstrates the scientific development of the writer.
An author is going to submit one article to different online journals or blogs. In most cases, this decision is unacceptable since the content is duplicated, and there is no value in it. The original text should be posted on one portal. One can then cite and discuss it on other web pages.
Professional tip: Learn the rules of check at your university or college. Can you plagiarize yourself? Professors know a precise answer to this question. However, never copy data or text word for word from your previous projects without citing them.
#4 Self-plagiarism might be allowed, yet do not overuse it
Yes, in some situations, self-plagiarism is not forbidden for students. We know from experience that people submitted identical texts for various purposes. For instance, the essay with the same topic was suitable for two different academic disciplines. The learner wrote one piece for both of them, and this fact did not prevent the successful submission. Yet what is the sense to use this opportunity?
If it is possible, choose another or related theme for your assignment. The other way is to demonstrate a new point of view or find additional arguments for the same topic. It is an ethical and honest way to deal with this situation.
Experts say: Remember, that every assignment is a new step to your development. So, do not skip your tasks and avoid self-plagiarism.
#5 Beware of the accidental plagiarism
Firstly, check if your text contains plagiarism. We can say from professional experience: even if you write everything from scratch, the program can detect copied words of sentences. You could unintentionally repeat your thoughts or formulations belonging to someone else. Use modern software to check the uniqueness of your text. For instance, it could be Turnitin or any other program. Make sure it is approved by your educator and college.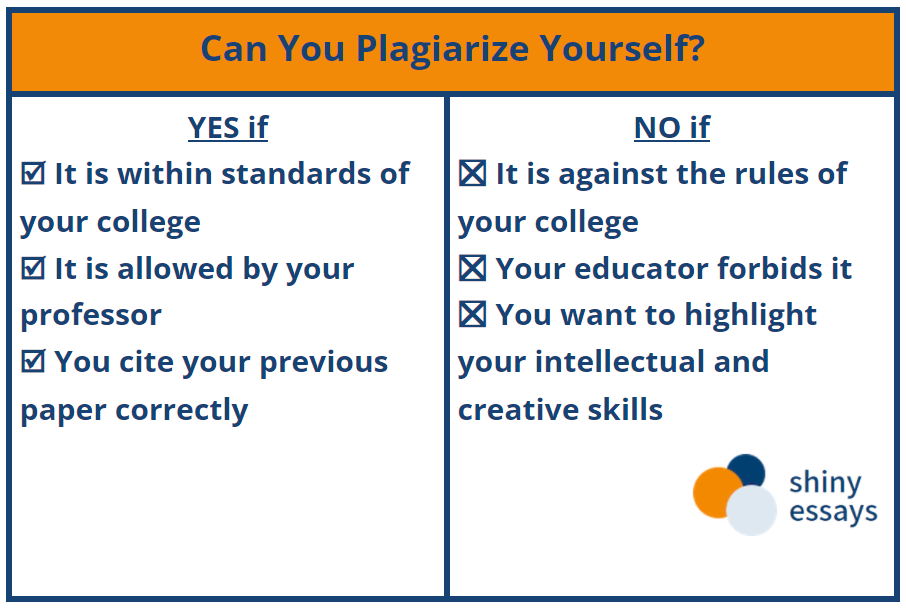 How to avoid self-plagiarism: Pro tips
We understand that it is not easy to come up with new ideas on the same topic. Yet it is possible. If you want to learn how to write unique texts, the following pieces of advice are right for you.
✔ Develop your thoughts
A new assignment on the same topic is a perfect opportunity to delve deeper into the problem. Try to find new arguments, cause and effect relations, and patterns. Let your every new text become the better version of your previous work.
✔ Do not rely on synonyms only
Make sure, you do not repeat your previous phrases and pieces of text. One can use software to pick synonyms; for instance, Thesaurus.com is a good variant. Still, remember that paraphrasing is considered a variety of plagiarism, so it is never enough to find new formulations for your new paper.
✔ Search for new angles
Try to interpret your topic in a new way. One idea can have multiple reflections depending on the sphere of life. Let your new publication contain fresh views on the same issue.
✔ Cite yourself correctly
It can be acceptable to cite the results of your previous research or any other work. The only thing is that you should do it in accordance with the given citation style and other requirements. Please, consider this fact before submitting your paper.
Please, note: Every plagiarism detecting program has particular algorithms, methods of work, and databases. That is why results provided by Copyscape and Turnitin may be different. To avoid misunderstandings, follow your professors' recommendations.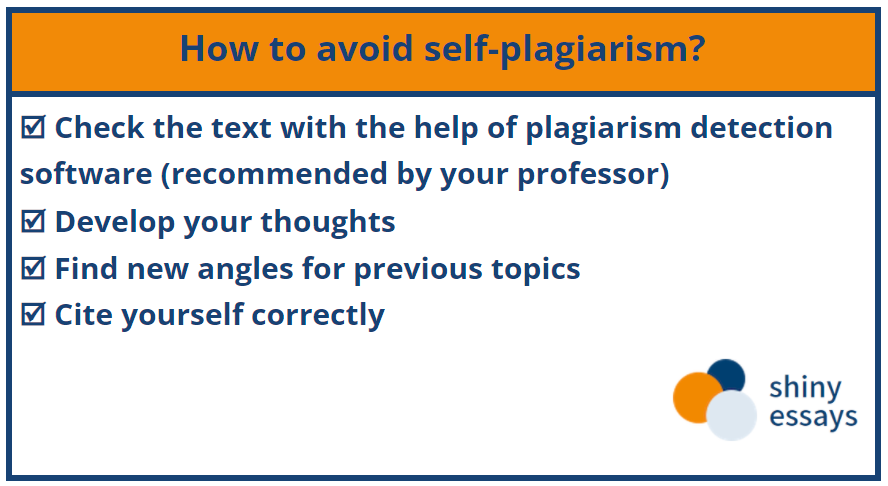 How to cite previously published papers?
Even a talented student can become the victim of this issue just because he/she cannot cite previous work properly. The rules of mentioning your earlier written papers are the same as for other sources of information.
The format of the citation depends on your style (APA, Chicago, MLA, etc.), it usually includes:
your last name,
your initials,
the year, when you created a paper (or published it),
its title,
the name of the college/university/journal where it was submitted or published.
Please, pay attention: If your report was not published, you can mention this fact like this: [Unpublished report].
For instance:
Brightstudent, S. (2021). Research of school issues in the USA. [Unpublished academic report] University of Michigan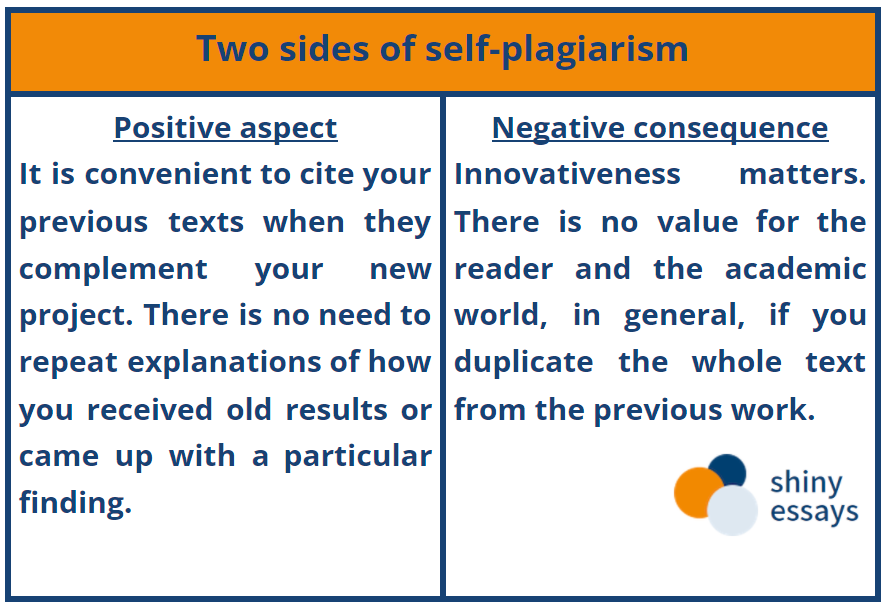 Impact of plagiarism
We are sure you are not the one who misuses others' intellectual property. Our team just wants to remind you about the negative consequences of plagiarizing.
Indeed, copyright infringement can cost you a lot, even if it is about recycling your materials. As a rule, teachers and professors react negatively to such cases, and here is why.
Plagiarism demonstrates a lack of creative skills
New findings and ideas are extremely appreciated in the modern world. The fact that the person has nothing to say on the subject speaks of his/her insufficient imaginative thinking.
Copying of another's material shows narrow knowledge horizons
Fresh ideas are not only about imagination or creativity. Very often they arise due to in-depth analysis on the given topic. The one who chooses to reuse old articles or essays shows poor intellectual skills, that is inability to examine the subject deeply and reveal new facts and findings.
Using the previously published work is not about an active life position. If you want to highlight that you are a diligent hard-working student, please, avoid reusing previous texts and try to come up with a new paper on your topic.
If you do not want to risk your reputation, credit, and grades, please, respect anti-plagiarism rules. And our writers are always ready to compose an original paper for you.
Issues with creating original work?
If it is challenging for you to write a plagiarism-free text, please, order our writing services. We compose all the essays from scratch and, thus, ensure their uniqueness. The quality of our work is proven with the help of the report, generated by the plagiarism checker. Would you like to try it? Please, place the order here!