Student's Image In 2040: The Boldest Predictions
A student of the future. How do you imagine this guy? A geek equipped with advanced gadgets, a person with a brand new mindset, or even a humanoid robot. All these variants can be true in the nearest twenty years. Inspired by science fiction, official research, and imagination, our writers decided to speculate on this theme. For this purpose, Shinyessays.com united talents of its best authors and researchers.  
Actually, an image of the future pupil will constitute a reflection of global processes and the fourth Internet revolution. Talking about the next twenty year, one can reveal the following factors influencing education:
development of digital technologies, Internet of the things, AI, and other cool stuff;
expansion of a global cyberspace;
growth of the ecological responsibility;
establishment of peace-building strategies.
Automation and robotization. A pupil will definitely work closely with robots. They can replace teachers, assistants for disabled people, and lab technicians. We hope to use them even in our business, providing top-notch writing assistance. Interestingly, that in future, not only humans, but various mechanisms will learn. It deals with artificial intelligence and neural networks. Sitting near a humanoid iCub does not sound unbelievable anymore. Pupils will be lucky to enjoy convenient advanced technologies. Audio and video lectures in headphones, virtual lab projects, AR/VR tours to remote objects of research will make their study vivid and effective.
A pupil's brief profile dated 2040
More than one hundred million babies were born over the last year in the world. In twenty years, most of them will become students. If these guys still have profiles, they will contain the following data.
Appearance. A face and a skeleton of a new pupil will be transformed a little bit. Scientists draw creepy pictures demonstrating how people will look like in 2100. Obviously, in the nearest future, these changes won't happen. Yet, some tendencies will be actual.  It deals with a worse posture, lenses in eyes, and less flexible joints of the wrist. Interestingly, the body will be probably upgraded with chips and other nanodevices.
Age. In twenty years there will be no strict restrictions concerning this point. Practically everyone who wants will get an opportunity to study. No matter how old he/she is.
Nationality. One more aspect that will lose its significance entirely. With the development of cyberspace, education is getting available practically for everyone. Thus, a student of the future will have any color of the skin and any shape of the eyes. No restrictions here too.
The most preferred accessory. An electronic device will be the most favorite thing for a pupil. We suppose that it will be something stretchable with a prefix "nano." Designs of futuristic phones really impress us today.
An automobile. Students from 2040 will drive Tesla. Not everyone, of course, but it sounds so exciting.
Nature
The time will put its imprint on the features of the character.
Flexibility is the key condition for surviving. Especially when it deals with rapid changes of the next twenty years. No choices but to adapt to this pace.
Laziness. In 2040, there will be fewer hard-working people than today. Technologies are the main thing for this fact. Online companies will still provide customized decisions for tedious issues, such as writing assistance, https://shinyessays.com/blog/custom-writing-essay, for instance.
Tech-savvy guys will constitute the majority of pupils. It is about a growing interest in engineering and availability of information.
Fast lifestyle. The on-the-go manner will concern not only drinking coffee but other spheres too. For instance, getting knowledge and information will be possible through earphones and other gadgets. It will also deal with fast switching between tasks and multifunctionality
A learning process and a professional sphere
The successful college life https://shinyessays.com/blog/tips-for-successful-college-life will differ. In future people will have to fight with AI for workplaces. In this regard, students will need to develop special skills that will help them control robots and neural network.  Otherwise, they will become victims of mechanisms.
Fewer restrictions. People of 2040 will not face any borders in the sphere of education. One global cyberspace will enable them to get information online, even from remote places. Meanwhile, they will study more beyond auditoriums.
New disciplines. Young people will be lucky to study progressive subjects at the intersection of several fields. Say, something like "AI in Medicine."
Studying on demand. Encyclopedic knowledge will not be necessary. The pupil will start learning a particular issue when a certain problem arises. Meanwhile, he/she will still have an opportunity to turn to an online company for help. Solid reputation, reliability, and guarantees will remain the crucial factors for this choice.
Focus on job opportunities but not on the learning process itself. The new time will blur borders between theoretical knowledge and real life. A student will definitely have a job since education will be closely tied with business.
A student will become a more significant member of the educational process. He/she will not only get knowledge but will share it with a teacher and other pupils.
Strategic thinking. Vision and imagination will come into the fore, as other simple actions will be implemented by mechanisms.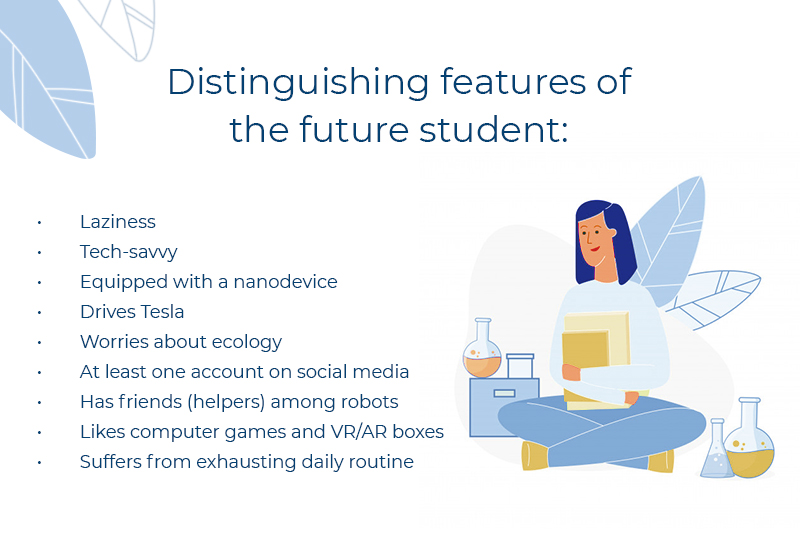 Some other points
Here are some more suggestions on what a young man from 2040 does.
Worries about ecology. In future people will care more about the environment. Thus, we will see more vegans and vegetarians among students and less plastic among their things.
Has at least one account on social media. Practically all pupils will have their profiles on the Internet by 2040.
Has friends (helpers) among robots. It is not about Siri or Alexa only. Virtual assistants and robots will evolve and take a more significant place in our lives. 
Likes computer games and VR/AR boxes. This choice is evident due to current tendencies.
Suffers from exhausting daily routine. Unfortunately, a future pupil will sleep less than 6 hours. It is all about the over-saturation of information. Difficulties with the organization of the net space and a necessity to filter content can complicate life significantly.
We hope that the future student will take the best features of contemporary pupils. We would be happy to see that the most positive predictions come true in the nearest future. Let this glimpse at 2040 become inspiring to your further accomplishments.
If you need helpful advice on study, check out these articles: