Your vocabulary speaks of intellectual horizons and knowledge of the topic. It can overshadow your ideas or become a powerful way to catch readers' attention. We'll help you use the power of words at its full potential — check out expert tips!
Words and phrases for your killer essays
"When I was a student, any essay was a nightmare for me. I was dreaming about a universal cheat sheet with hints or a magic list of words that would help me write those complicated academic texts..."
(Alex, developer)
These recollections belong to one of our employees, and they have inspired us to create the post. Indeed, as expert writers, we rarely stop at the stage of picking the words. Everything comes naturally due to sufficient professional knowledge and practical skills. Yet many students and aspiring authors might encounter difficulties when writing essays. And this article is just for them.
Here we have collected experience-based tips, clear examples, and practical guidance. Learn how to:
find the necessary words,
express your thoughts correctly,
reach your goals by using the most suitable words and phrases.
This article is helpful for those who:
want to make essays more powerful,
strive to earn a reputation as an intelligent person,
need to add words to increase the volume of text.
Download our free checklists, read recommendations, or order a ready-made essay from our expert!
Writing an essay: Words matter!
Words are an effective instrument bridging the gap between the author's inner thoughts and the outside world. Today people still cannot read thoughts, and they use your phrases to understand who you are and what you want.
An AI automatically transforming reflections into the text seems a good idea, and our team is working on it. In the meantime, we offer our helpful guidance.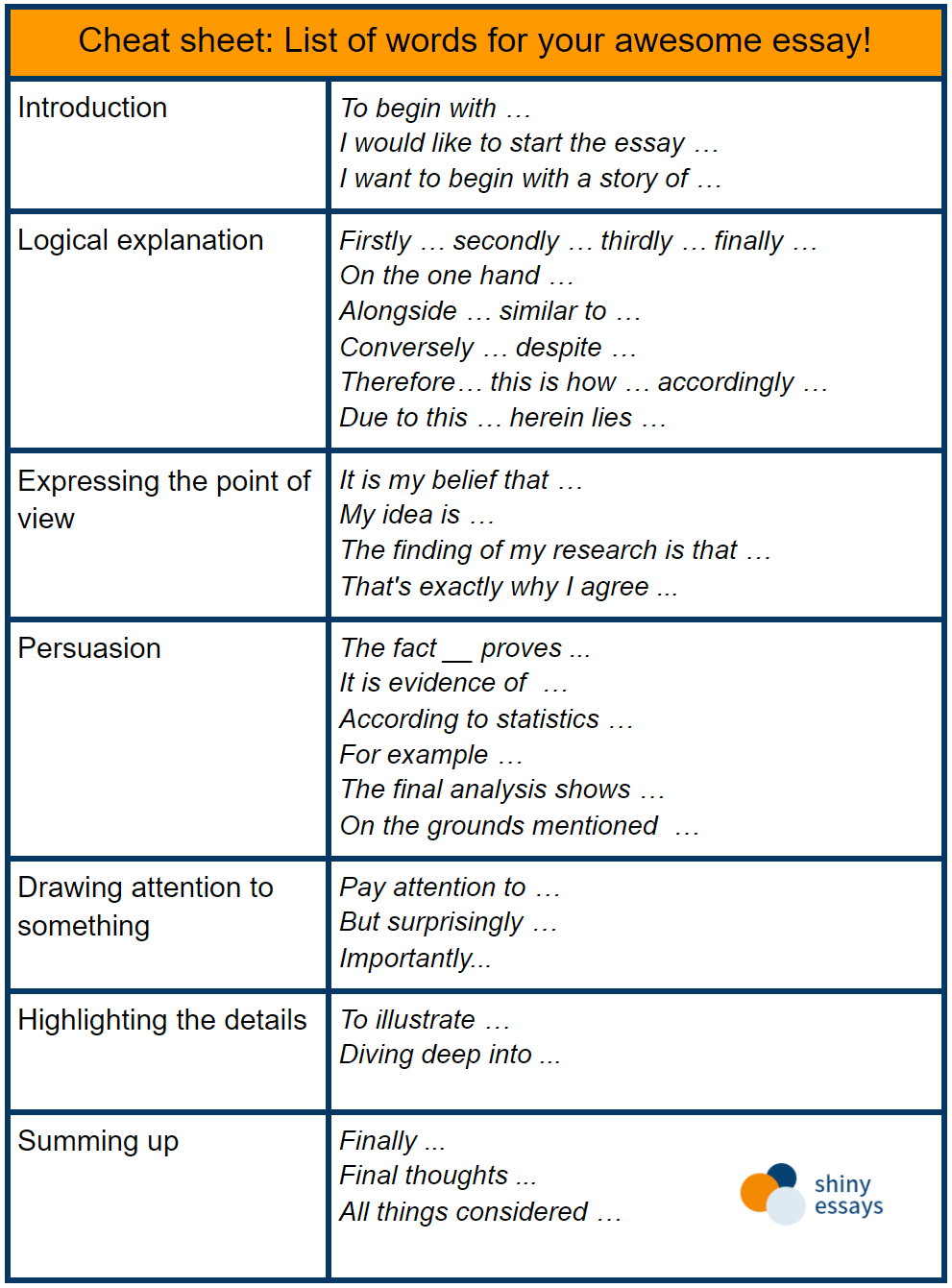 Magic of word in practice
Professors pay precise attention to the vocabulary used for essays. Yet, sometimes their instructions are incomprehensible, and students wish there was an online translator explaining teachers' recommendations.
As former English educators, we want to reveal some essay writing secrets. Discover how particular word combinations are interpreted by your teachers.
Transition words to make it sound better
It is pleasant to read the story when the thoughts flow like a river. To achieve this effect, linking words and expressions can be used. Without them, the text constitutes chaotic theses. So here is a list of phrases to make your essay readable and convincing.
⇒ Firstly, secondly, thirdly
They speak of your talent to structure the information. Words like these show that the student can divide one piece of information into coherent parts.
⇒ On the one hand, another key point, another way to, another point of view
The student does not jump to conclusions and analyzes several views. It is evidence of objective reflections and an honest approach to academic research. The reader understands that the author examines some ideas to come up with a comprehensive report.
⇒ Alongside, conversely, despite, similar to
Analytical skills are highly appreciated in the contemporary world. When using comparing and contrasting words you highlight your talent to examine objects and reveal their common and different features. Good job!
⇒ Therefore, this is how, accordingly, due to this, herein lies
By adding such phrases to your sentences, you demonstrate your logical reflections. This approach is essential for research papers. Begin your paragraph with one of these expressions to describe the revealed patterns, cause and effect relationships, and other points of your project.
⇒ For example, according to statistics, the final analysis shows, on the grounds mentioned
Adding and explaining arguments is always a good idea for your essay. When you introduce powerful facts and examples, your story becomes more convincing.
⇒ My idea is, the finding of my research is that
Professors rarely judge your ideas and suggestions when reading essays. Do not be afraid to present your opinion. In fact, it's not about the correctness of your thoughts but about the way you prove and explain them. A solid argument makes your thesis strong.
⇒ Moreover, besides, furthermore
Do not stop at one thesis: contrast it with another idea or present additional thoughts on the given topic. The desire to thoroughly examine the topic and find nonstandard solutions underlines your creative skills and the talent to think outside the box
⇒ Finally, final thoughts, all things considered
Such phrases give the final touches to your text. You must not always use evident expressions such as: at the end, summing up, in conclusion, etc. One can find better alternatives to these cliches.
Your ability to explain complicated things in easy and understandable words is highly appreciated today, so highlight it with the help of correct phrases. It is a good chance to show your depth of knowledge on a particular topic.
We sincerely wish you success with academic and creative projects. If this list is helpful, please share your reaction. It inspires us to create more blog posts with free useful hints. Contact us on the chat!
Top list of words to impress your professor
We have assembled several phrases that were most appreciated by teachers, professors, and representatives of the admissions boards.
One argument in support of ...
It is clear from these observations that ...
The idea arises from ...
This argument is key to ...
A nonstandard approach to ...
This finding is based on the following considerations ...
This deep phrase makes me rethink ...
That's exactly why I agree ...
To illustrate ...
Of course, it all depends on your educational background and the teacher's expectations. Obviously, the list of words to use in an essay varies according to the knowledge field, college standards, the grade you would like to earn, and many other subjective factors.
Words you have to avoid in academic essays:
slang, including abbreviations (LOL, dude, hafta, etc.);
unknown terms (do not invent new words);
rude offensive phrases;
fillers (meaningless words: well, um, ah, etc.).
Picking words for essay writing: Step by step instruction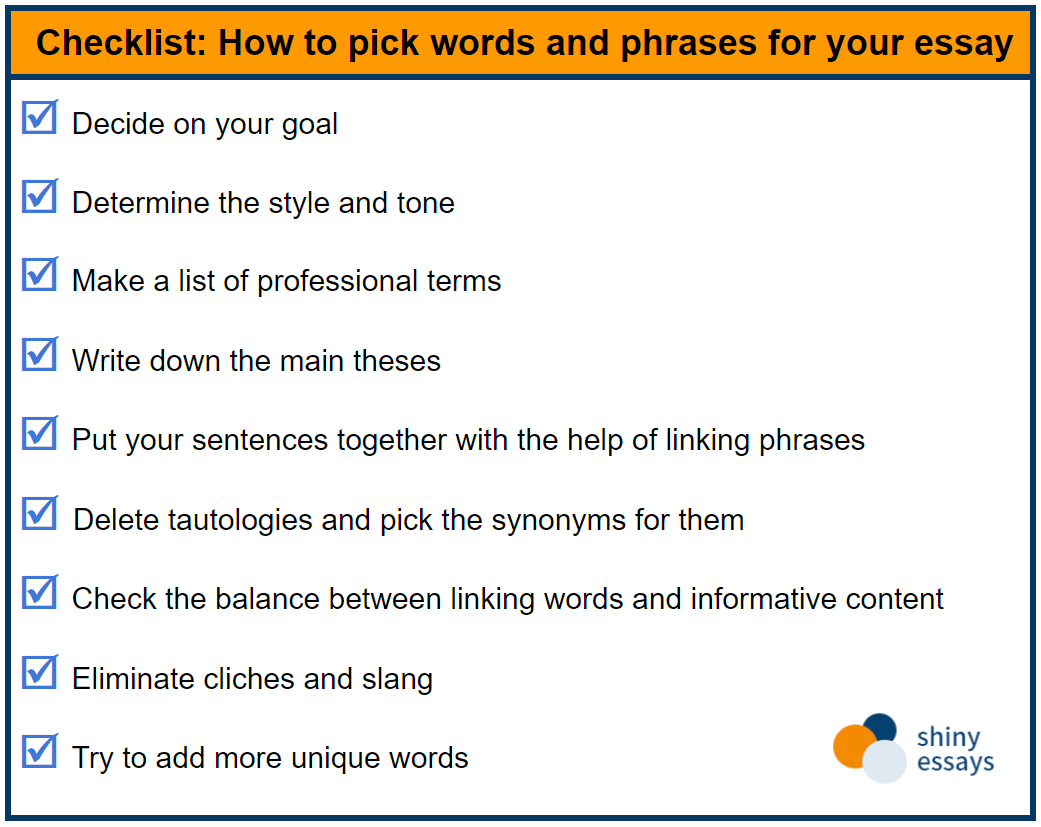 Use phrases and words wisely
It's all about your goals. The choice of suitable words depends on your situation and intentions. Highlight an in-depth understanding of the topic, show your erudition, explain tricky concepts, prove your unique ideas, etc.
Expert tip: If you constantly work with texts on one topic, create a vocabulary with professional terms and interesting words. It could be a Google Docs file, a table in spreadsheets, or any other convenient format. By doing so, you can always find the necessary words for your next essay.
Practical tips from professional writers
We believe that the list of words is not enough to compose a brilliant academic paper. These recommended phrases are worthless if one cannot use them properly.
The best words for your essay are those that are relevant to your topic and style of writing. Do not use recommendations blindly just to demonstrate that you know beautiful opening phrases.
Do not overuse linking words
The number of additional phrases should not be higher than the volume of useful content. Do not forget about readability and common sense.
Cliches can sound annoying, especially if it deals with a creative story or a non-standard individual project. Try to find your manner of writing and use more unique words.
The word is only one of the numerous instruments
Correct words do not work well when the author ignores other rules of writing. Meantime, combined with a logical structure, proper style, suitable formatting, and awesome insights, they contribute to the synergistic effect. Your ideas must be united in one cohesive text: all the parts, including the introduction, body, and final paragraph should be harmoniously merged.
Do not forget about spelling
Check if every word and sentence is correctly written. Mistakes and typos can change the meaning of the phrase and lead to misunderstandings.
The thing to remember: There is no one universal formula or ultimate list of phrases to create excellent essays. The point is to analyze the given recommendations, select the most suitable words, and apply the gained knowledge to your situation.
Words you can use: Where to find them?
Alongside this blog post, we recommend using other ways of searching for words and phrases.
Study helpful information on your theme and the subject. Professional literature, expert blogs, modern podcasts can come in handy. The more you learn on your topic, the more terms and expressions you remember.
Apart from professional materials, find time to read good books, watch thought-provoking movies, and do what you like. All this brings you inspiration and sparks ideas. Being full of impressions and feelings, you can easily generate new information and describe it with the best words.
Use online synonymizing tools
Sometimes it is so complicated to avoid tautologies and find successful synonyms. If you constantly encounter such an issue, try Thesaurus.com or any other free synonymizing instrument. Our professional writers claim with confidence that this software is effective for picking good words in the English language.
Academic writing service for those who are tired of essays
If writing is not your cup of tea, we offer a convenient and effective alternative. Hire our expert and receive your brilliant essay in the shortest terms. We guarantee:
informative texts composed precisely for your goals,
use of relevant vocabulary (including professional terms),
correctly spelled words and impeccable grammar,
readable content without tautologies,
Our authors have already composed thousands of awesome reports and stories, and they definitely know which words to use. Thus, a shiny essay is guaranteed to you. Order our professional writing services and forget about all the issues!