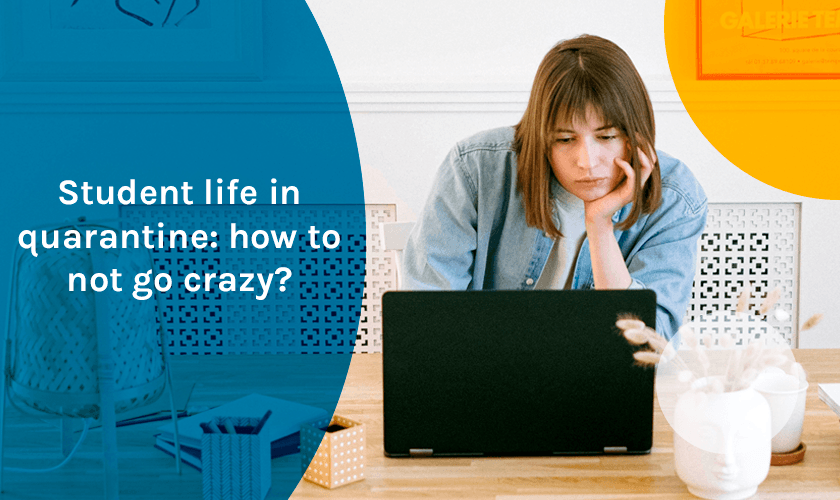 The quarantine will be over soon. At least we hope so. For now, read this post to find helpful advice on how to spend this time productively. The team of Shinyessays.com authors has monitored conditions in which students appeared due to the lockdown. We have collected information on their greatest difficulties and discussed the best possible solutions. 
Student life during isolation: the biggest issues
Our inquisitive academic writers decided to figure out the impact of lockdown on students. We have asked young people about transformations in their lives during this period. So, here are the results of our little survey.
✓ Gaps in education
Students note that they lack offline communication with teachers. It is about additional explanations, eye contact, and practical lessons. Those who study Medicine suffer from this situation the most. Of course, theoretical lectures are not enough to study Anatomy, for instance. The same can be said about studying Chemistry, Arts, Sports Science, etc.
✓  Loneliness
Apparently, digital communication cannot replace the warmth of hugs and a special atmosphere of real meetings. It is not a problem for people who are isolated with a family or friends. Still, many foreigners have no opportunity to come back home during the quarantine. It deals, above all, with financial issues. Thus, students who are isolated on campus suffer from loneliness a lot.
✓  Different time zones
This issue affected foreign students who came back to native countries. It is OK if the figure is about a couple hours. Yet, for instance, the time difference between Beijing and Washington is about twelve hours. For those who have to take part in online conferences at night, it has become a crucial obstacle.
✓  Lower financial incomes
A lot of businesses and governmental spheres suffer from the pandemic. Both students and their parents lose their jobs and profits.
✓  A lack of technological opportunities for online learning
It happens that pupils from low-income families do not have personal laptops, computers, and even high-quality Internet.
✓  Detachment from reality
When you attended college, you have frames for everyday activities. Online education creates an illusion of freedom. A flexible schedule and an opportunity to cuddle your cat during the lecture sound awesome. But, in fact, you get distracted and postpone homework until the last moment.
If you struggle with online learning, you can always turn to our online writing agency for help.
✓  Boredom
Apart from health issues, the pandemic brings psychological problems too. Young people suffer from isolation a lot since they lack communication, adventures, parties, and other entertainments.
Expert's opinion:
Generation Y and Z turned out to be the most vulnerable groups from a psychological standpoint.  In most cases, they witness such a large-scale tragedy for the first time. Many of them are not ready to make wise decisions and do not know what to do. Young people got used to be positive and optimistic. But now their beliefs are destroyed, and plans are ruined. Inability to pay to study, job loss, isolation, all this can lead to depressions.
Tips for studying online during the lockdown
Many problems of young people boil down to issues with studies. For this reason, we offer the following advice.
✓ Determine your motivation
It all starts with a desire to reach a certain goal. Meanwhile, the isolation is a stressful and emotionally draining period, when you want to give up on everything. Think about why you need to keep studying.
✓ Self-discipline
Do not take a quarantine as a holiday. The temptation to sleep one more hour, watch Netflix, or look through posts on social media can lead you to a dead end. If you allow yourself to relax too much, you will simply waste precious time. The freedom to organize your day results in procrastination. So, in a month you will have a bunch of unfinished projects, including complicated essay writing assignments. It sounds like a dull lecture, yet, set a schedule and adhere to it. Make time for study and rest.
A balance between intellectual work and physical activities is what you need to maintain productivity.
✓ Organize your working space
It could be challenging to do if you do not have a separate room. However, try to find your own little corner, something where you can place a laptop and headphones. Think about the background for video calls if you do not want to look foolish.
Turn your working place into a zone free from pets, food, children, mess, and other distractors. Your whole flat can be in chaos, yet the corner where you study must be in order. It is your oasis of calm working atmosphere.
✓ Maximum concentration
Focus on your college assignments and do not get distracted by social media, news, or chatting with friends. Determine your productive hours and do most of the tasks during this time.
✓ Find positive moments
In this challenging time, you need something that brings inspiration and enthusiasm. Pleasant emotions are essential to overcome difficulties and move forward. What fills you with joy? Music, yoga, workout, communication with friends, etc.? Find time for these things between lessons to avoid stresses and depression.
✓ Use modern technological opportunities
Zoom and Skype have already become the most popular platforms for online education. Learn what applications your teacher uses for the teaching process. For instance, Google Docs is good for sharing files. One can also choose AI-driven programs for editing and proofreading https://shinyessays.com/blog/proofreading-essay-useful-tips.
What to do except studying?
Staying in lockdown, you might get more free time in comparison with your ordinary life. You cannot go out and visit a bunch of places such as cafes, cinemas, shopping malls, etc. Take this situation as an opportunity to work on your personal growth. We hope this list of hints will inspire you to spend time productively. 
☑ Go in for sports
If you are lucky to have a garage gym, do not be lazy to work out. You can find thousands of videos online for personal training at home too.
☑ Think about life
We rarely have enough time to ponder over our priorities and goals. The isolation is a good opportunity to sort yourself out.
☑ Teach someone
Mother and fathers all over the world have to participate in children's education. Online classes offered by the official educational system are not enough to keep kids busy. So, if you are good with children or teens, help them to study. You can offer private online lessons. The parents will be definitely grateful to you.
☑ Earn online
Logistic, delivery, online shopping companies tend to expand the businesses in the quarantine. Today, a lot of enterprises are looking for support managers, copywriters, coders, project managers, etc. If you have enough free time and skills, try to find a part-time job.
☑ Read our blog devoted to student life
You, finally, have an opportunity to read all posts on our website. Learn useful tips for essay writing and get inspiration for your future projects.
☑ Search for new friends online
You can expand your social circle, at least in the virtual world. Look for like-minded people on social media.
☑ Conduct an experiment
You can do a sort of social experiment observing the situation around you. Watch how stressful conditions change the behaviour of people. Growing a crystal or even some greens is also a good idea.
☑ Do good
If you have an opportunity, help those in need.  You can deliver some food to your older neighbours or donate to people who appeared to be in a difficult situation.
☑ Create your project
The quarantine can also become a perfect time for inventions and startups, as in the case with an online dating platform OKZoomer.
To top it all: being busy during quarantine, you get distracted from sad thoughts. Sometimes it is even more important than to do something useful.
Some predictions: what is next?
⇒ Postponed tests
School leavers, who are going to enter universities, worry about SAT and ACT. For now, April and May's tests are cancelled. Educational institutions are looking for new solutions to this problem. Their representatives discuss the possibility to establish an online testing system.
⇒ More opportunities to enter the university
Apparently, it is not about the Ivy League. Still, it can be easier to enter US colleges. A lot of foreigners will not be able to come to the country in 2020 because of pandemic restrictions and financial issues.
Do not let quarantine nullify your previous and future accomplishments. We do not choose the time when we live; still, we choose the way we react to current events. Let your deeds be conscious. Move forward to your success and happiness, and we will support you with competent writing assistance.