Are you among those students who need to write coursework under a quarantine? Thousands of people all over the world suffer from new conditions of life, and the learning process, in particular. You might have been dreaming about skipping some lectures and staying at home without annoying professors and a strict schedule. But in reality, it could become not what you had expected. Instead of enjoying freedom, you become a victim of procrastination. Sounds familiar?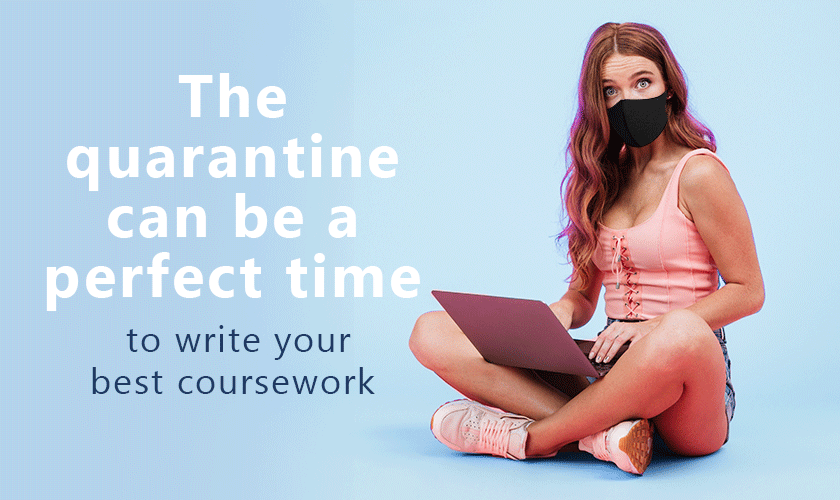 The team of our authors has prepared helpful advice and recommendations on studying in terms of lockdown. Take this challenging period as an opportunity for your personal growth.
Writing coursework in 2020: top issues
We have asked some students about the difficulties they encounter while writing college assignments remotely during the isolation. Here are their most common answers.
✓ Health issues
Obviously, if you suffer from the virus or any other disease, you simply cannot work on your college projects. Do not try to be a hero and give yourself time to recover. 
✓ Depression
All that panic around pandemic influences mental health significantly. Detach yourself from this sad situation and concentrate on your coursework. It is a good way to forget about the virus for a while.
✓ Financial issues
Unfortunately, quarantine measures restrict business and other spheres where you or your parents work. US colleges worry if students will come back after the isolation.  Inability to pay for studies is a crucial problem. We hope that this crisis will be over soon. And, meantime, you can find a temporary job, and we will write your college projects.
✓ Weak Internet connection
Students often complain about slow Internet while studying remotely. It really irritates when you cannot find the necessary information fast. Let alone communication with teachers and classmates. Is your signal strong enough to place an order on our website? So, download your instructions, and we will do the rest.
✓ A lack of consultations from tutors and professors
Many pupils say about the inability to discuss arising issues. You are lucky if you can talk over the coursework with your teacher. Otherwise, you are free to turn to our assistants for help.
Taking into account circumstances, some colleges allow students to submit coursework later. Still, if you do not have any objective reasons to postpone this project, pull yourself together and just do it. Take it as an opportunity to do something useful during isolation. And our student-friendly writing agency will help you with that.
Three ways to create your coursework
In fact, you can use three variants to cope with your paper.
Strategy #1 Individual efforts
It is a good option for those who feel superpower to go through all the circles of academic writing, that is research, composing the text, its editing and proofreading, rewriting, etc.
Strategy #2 Professional online writing services
It is the fastest way to write any college assignment. Good choice when you are exhausted, short in time, or have no desire to sweat over this task.
Strategy #3 Your writing + pro editing
If you are not sure about the high quality of your coursework, order expert editing assistance from a reliable agency. In doing so, you improve the level of your text significantly and, meantime, demonstrate personal insights and findings.
An easy solution for creating splendid coursework: just contact our support agents and get your perfect text in the shortest terms.
Tips on coursework writing: step-by-step guidance
If you decide to create the college paper on your own, adhere to traditional rules of academic writing. The principles of composing coursework still remain the same. And do not forget to consider your teacher's recommendations. Here you can see some tips that can be used to simplify the process of writing.
1. Determine the topic
If you have an opportunity to choose a topic for your coursework, we advise you taking it wisely. Think about your passions and interests. It would be excellent when you opt for the theme which attracts you. If you feel enthusiastic about a certain subject, why not devote your paper to it? You could also discuss this step with your teacher.
Do you need hints? https://shinyessays.com/blog/best-ideas-for-research-paper-topics-in-2019-100-variants.
2. Make the plan
It deals with a structure for your project and an action plan. A coursework is not that paper that can be written in one day. Evaluate your capacity and distribute time wisely to do everything on time.
3. Conduct a research
Collect the facts, determine the essential moments, and analyze them. Depending on your goals, you have to reveal cause and effect, compare some objects, explain the consequences of the phenomenon, etc.
Expert tip: Apart from the traditional resources (books, science articles, textbook) try to find information in the common sources. What if your topic has been recently discussed in the news? So, do not ignore official portals on the Internet. By doing so, you learn the latest innovations and trends in your sphere of study.
You can use various methods of research. It would be better to combine different ways of study: measurement, tests, analogy, experimentation, etc.
4. Interpret the results
Demonstrate what you know about a concrete subject. Use proper terminology to sound natural for the academic world. In addition, it is a good way to show that you have a grip on the topic. If your paper includes calculations, double-check them. Use reliable references to get objective results5
5. Formulate your ideas
Now, when you have studied the topic thoroughly, you definitely have some new thoughts. Herein lies the essence of any academic paper. Choose a convincing tone to prove your hypothesis.
6. Compose the text
While writing your coursework, do not forget about grammar and stylistic nuances. The coursework must be a well-structured paper. Learn about your college citing style and other rules of formatting.
7. Take a fresh look at the coursework
After you have written the whole document, revise it compulsorily. Editing and proofreading, in particular, are a must for serious college projects https://shinyessays.com/blog/five-tips-from-essay-editor. One often uses modern applications to check grammar and plagiarism. If it is allowed, show your first draft to the professor to get constructive comments.
8. Rewrite if necessary
We understand that this step might seem annoying and tedious. Still, do not ignore it if you strive to get a high grade. Consider all the recommendations of the teacher and rewrite it. See it through, as a result is worth it.
What is the secret of the best ever paper? This question is relevant for every student. Writing an academic project is always rather burdensome; but there is one certain way to simplify it and to write an excellent assignment which will probably obtain an excellent mark. Choose our writing company and forget about all those struggles with searching information, studying scientific articles, research work and long hours spent looking through tons of materials related to the topic of the assignment.
Read  other helpful posts on essay writing:
What do professors expect from your coursework?
You have probably got instructions and recommendations from the teacher on how to write this academic paper. They are often so blurry and confusing. We can say from our experience that the following points matter most of all.
✓ In-depth analytical work
You need to investigate the topic fully. It is supposed that you study all the materials backwards and forwards. Yet the point is to analyze all this stuff.
✓ Your point of view
Serious independent research results in generating individual findings. So, you must demonstrate your opinion.
✓ No plagiarism
Do not even try to copy any texts from Internet resources. Firstly, if you clone another person's work, it will be noticed, and secondly, it will nullify your understanding. Modern software detects this fact in a couple seconds, so, your reputation may suffer.
Our website offers exclusive content, so you will never have plagiarism issues.
We can make the process of writing a term paper much easier for you. Just imagine: you do not have to puzzle your head over the theme of an assignment, ways of research, writing the text. Let us do it all for you. Our service guarantees high-quality work, so feel free to make a request and save your time!
Organizational issues
Studying online under lockdown is not the same as standard distance learning. Firstly, it deals with the psychological pressure. The panic around a dangerous virus influences the mental state significantly, let alone the disease itself.
✓ Firstly, calm yourself. You need to concentrate your thoughts and efforts on your coursework but not on the news and social media.
✓ You need a schedule. There is no other way to work effectively. A coursework is a  huge task, so you definitely need an action plan. Determine the time for research, composing the text, editing and proofreading. Time management is essential for creating brilliant coursework.
✓ Learn about support opportunities in your educational institution. Today colleges transform their methods of teaching to adapt to new challenges. It deals with virtual lectures and online consultations. Stay connected with your professors, and, thus, you can get helpful materials for your coursework.
To top it all...
The quarantine will finally end, and you will return to your previous lifestyle. And meanwhile, do not take isolation as an excuse for mediocre coursework or broken deadlines. If you feel healthy, do not skip your college tasks. Otherwise, your unfinished assignments will result in a bunch of urgent projects after the lockdown.
In case you need reliable assistance with your college projects, you can always count on our academic writers.