Secrets To Getting Good Grades: Tips For A High School Student
Though many students may believe it's simple, it's still quite the contrary: to earn good attendance points into colleges or Princeton University, it's necessary to earn better grades while in high school.
Having in mind the list of schools or colleges you want to get enrolled in, it is obvious that you are aware of what GPA you should have. Still, what methods should you use to achieve the needed test scores?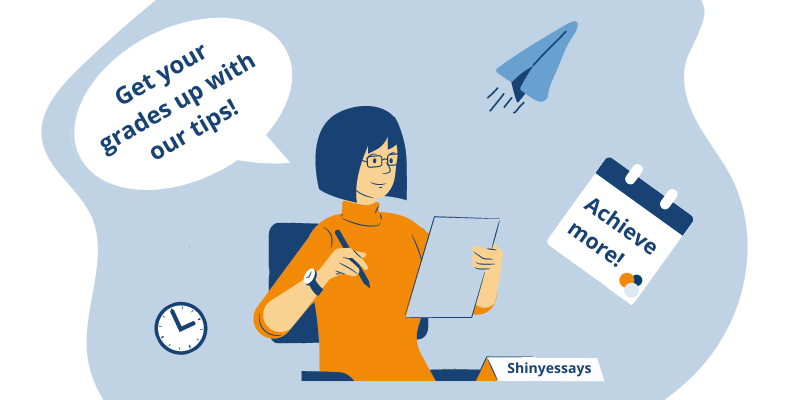 A good or excellent grade reflects the understanding of the material taught during courses or class and the hard work and effort put in by students to achieve the goal of getting good grades. College professors will see that a student performs well and is able to achieve success in a challenging academic setting and exceed course expectations.
Getting good grades teaches students significant skills in discipline, studying, and preparation. These skills will give students an opportunity to perform their working responsibilities in the future in the best way.
Below, we suggest some important tips that will work for everyone, whether for those attempting to get good college grades or those seeking future success.
Adhere to this menu or guide to guarantee that you are on the right track in the academic classes or courses you are taking.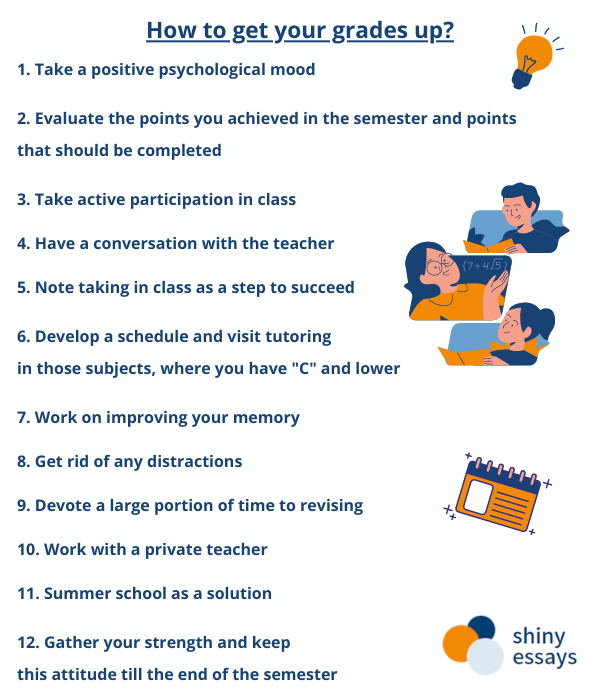 1. Take a positive psychological mood
It's very expected that students get disappointed when they receive low grades. One of the major steps on the way to bettering the letter grade is to get rid of the negative attitude. Thinking positively and being ready to face all challenges will surely change the situation and help complete all writing assignments in an effective way.
Realize that your current grades are not what you strived to achieve but believe in yourself that you can do a lot about this issue. While you should acknowledge that you cannot do everything about the college grade, you still may do something to help yourself do better than it is at the moment. Clear your mind of the idea of giving up because you can achieve more.
2. Evaluate your situation
You should identify whether there are weaknesses in one subject area or class, or several classes. Also, there is a need to determine whether you have the writing assignments that were not yet delivered by simple note taking. Furthermore, in the list of classes in the class syllabus, identify everything that should be completed for each class, as well as due dates for exams and assignments.
Using a study schedule would be very appropriate here because you will be aware of the exam dates and due dates for all articles and assignments you need to hand in.
3. Take active participation in class
All may state that paying attention to anything requires being active. When it comes to schools, passive listening and ignorance of the subjects in class contribute to lower grades and worse reflection because the time spent in class is passive.
Certainly, the ability of students to take part in the tutoring session is highly dependent on teachers, the learning style, and class. The fact is that some teachers decide to hold lectures with the minimum involvement of students because some individuals experience shyness when speaking in front of each other and the audience. What is important, almost every teacher focuses on the significance of active learning, making all students involved in the studies.
4. Have a conversation with the teacher
Do not hesitate to ask your teacher for a piece of advice regarding the approaches to improve and ask questions in terms of what was done wrong.
Nevertheless, you should realize that if you did not show active involvement in class and now simply ask for help, do not expect your professors to give positive feedback. You need to demonstrate a sincere desire to follow their advice to avoid the possibility of being treated negatively in terms of your academic achievement.
Specify whether there is an assignment that may be done by you as extra credit. Ask about the opportunity to redo some assignment that was completed not in the best way. Or, as extra credit, ask a teacher to work on a new test or article to get a higher grade.
5. Note taking in class as a step to succeed
Taking notes is one of the best techniques to earn an "A". In fact, taking notes is not easy and not all students are aware of how to perform this activity effectively because not all schools teach how to do it successfully. At times, you may find it challenging to work on notes taking, but it is definitely critical in earning a good grade.
No one knows how to take notes effectively for each individual. While it is helpful to take notes of everything the teacher says, it is up to you how to do it best. The brain works intensively when professors introduce the information, and then processes it to select the major idea to write it down.
6. Develop a schedule and visit tutoring in those subjects, where you have "C" and lower
It's necessary to generate a schedule, where you will specify the time you will study and go to tutoring on a daily basis. Try to devote time to each subject a day because it will be easier to study gradually than learning huge volumes of information. To achieve anything in your academic life - you need to work too hard, even at the expense of your free time.
7. Work on improving your memory
It is really hard for some individuals to remember the information needed for exams, which leads to lowered grades. Earning a college or university degree is not easy because there is a lot you need to learn across a number of disciplines. There are multiple articles on the web that may help you find answers to the questions regarding how to improve memory to succeed on exams.
8. Get rid of any distractions
Remember that staying focused is essential. Getting rid of all distractions implies spending less time using the phone, watching tv, and playing games on the computer. In the technological age, people are tempted by the vast majority of applications and gadgets that distract them from important things like achieving goals, communicating with families, etc.
To be able to do homework on time and with the highest effectiveness, you should solve questions with social media engagement and technology usage.
9. Devote a large portion of time to revising
If you find that the scores for exams or any test are lowered, it may be due to the limited time and an opportunity to revise what you have done. Practice exams are a good thing because they show what weaknesses you have and what areas should be addressed.
Revising what you have done is a method to improve the scores you earn. If you are interested in this aspect, you may locate numerous articles with tips that may help you in writing better papers.
10. Work with a private teacher
This article may give tips that you may not consider helpful. Therefore, the last thing we can suggest is hiring a tutor who will definitely help you better the scores.
Individual lessons are particularly beneficial because the attention of a tutor is totally given to a particular student, who may face difficulties speaking before the audience. This may be a great solution for a student, who experiences challenges with other ideas expressed in this article.
11. Summer school as a solution
Going to summer school is a good chance to learn in an environment free from the pressures of a traditional classroom. It is a proven resolution of academic issues because a person becomes involved and inspired to learn more about tricky subjects, thus increasing the probability of writing homework effectively.
12. Gather your strength and keep this attitude till the end of the semester
Follow the plan you have created. Do not forget to assess the progress frequently, rewarding yourself for any achievements made. To do the homework effectively, avoid distractions like social media, events, friends, computer games, and phones. A high proportion of time is taken by these distractions that divert your attention. As you have already identified, the more you study, the higher the grade you earn. Do not waste time, but use it cleverly!
Expand your knowledge, practice skills, read professional tips on our blog. We sincerely wish you to reach academic achievements!
If the information presented in the post was of help to you, you are welcome to leave your feedback. Be sure that the email address you provide will not be revealed. The box for email is for everyone who wishes to leave a commentary. Thank you for your time and attention!