American Professors Have Reasons To Be Angry
Former and practicing pedagogues constitute a great part of our team. Their valuable experience and knowledge enable us to provide competent writing services. Furthermore, they give helpful hints in our blog. The topic for this post was chosen for a reason. On the one hand, students want to succeed in studies. Trying to meet teachers' expectations, they do not always understand all subtleties. Pupils often see some moments as funny jokes or unimportant details. Meantime, members of academic staff get everything in a different light. It is time to find out what irritates professors the most. We got information for this article at first-hand, having interviewed real people. Check it out.
There could be various reasons for irritation: evident and hidden, predictable and spontaneous, typical and individual. Yet, all of them are united with two basic facts.
Professors treat students as adults. Adequate behavior and universal norms of communications are what they expect to see.
People who teach you at college are passionate about their subject. They take it as a priority in study and life, in general.
When your deeds are contrary to these principles, misunderstanding and annoyance arise. Here is a detailed list of actions that can make educators furious. It was prepared by the team of our skilled authors on the basis of credible cases.
Childishness is what perplexes professors most of all. It is reflected in various actions.
1. Forget to do homework. All the time. The adult world does not take any excuses. All the reasons for forgetfulness sound miserable. Professors take it as a consequence of laziness, procrastination, and disrespect to their subjects.
2. Ask for an individual approach. Apparently, people have various skills, capabilities, and talents. Universities treat everyone equally. They offer honest terms and the same conditions for all students. Sometimes sportsmen, artists, foreigners have this very strange expectation of getting perks. In fact, they can count on grants or specialized courses, if the university offers such benefits. That's it. The teachers are not obliged to put higher marks just because these guys differ from others.
3. Do not accept criticisms. A mark for a college assignment is an objective reflection of knowledge and efforts. A self-sufficient person takes a low grade as a reason for further actions. Say, study more, become more attentive, check grammar https://shinyessays.com/blog/essay-grammar-check, etc. As for resentments and tears, they are not effective but just irritating.
4. Be always late or leave an auditorium earlier. These deeds show your disrespect to time. A feeling of wasting precious hours and life forces is always unpleasant. If you constantly abuse the patience of a teacher, he/she will eventually get furious.
Gaps in education are so evident to professors. In most cases, when a person demonstrates ignorance, we try to turn a blind eye to this fact. Yet, an academic sphere implies a certain level of literacy. That is why educators often get angry watching the following moments.
5. Make grammatical mistakes. They attract teachers' attention at once. If you are not sure about your educational attainments, try professional outsourcing help. Something like writing assistance https://shinyessays.com/blog/professional-essay-writing, for example. 
6. Make errors in elementary calculations. Blunders are not acceptable, as they change the sense of experiments and research.
A lack of culture is inappropriate for an educational sphere.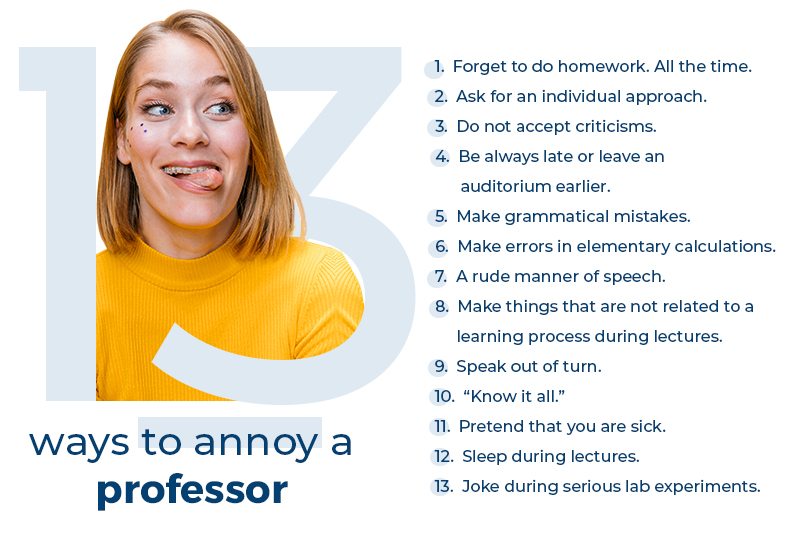 7. A rude manner of speech does not fit a civilized world. Boorishness speaks about a low level of self-discipline and personal development. Let alone the fact that such words are not pleasant to hear.
8. Make things that are not related to a learning process during lectures. Chewing gums, eating, using a phone, ­- all these actions are a red rag to a bull.
Disrespect to subordination makes honored professors upset. Education is getting more democratic today. Meanwhile, a pedagogue is still the main participant in teacher-student relationships. A high level of knowledge and a vast experience lets a teacher be a true leader for pupils. That is why he/she definitely deserves respect. Let alone generally accepted rules of conduct.  
9. Speak out of turn. No matter who is talking, a pupil or a teacher, a manner to interrupt irritates.
10. "Know it all." Obviously, there could be constructive comments from learners. Still, in most cases, they do not make sense. A wise person never boasts of intelligence or skills, realizing that knowledge is a relative concept. Stubborn people with dogmatic views often annoy everyone.
If you realize the gap between generations and professional levels, you will understand your professors better. It is not difficult to make a person angry. The thing is to be ready for the consequences of this action.
Professorial position is not an easy job
Some more crazy points as a bonus (just for fun)
We also googled bizarre methods to make a professor mad. They seem made-up, yet videos on the Internet prove that they are real. These ways to annoy a teacher may seem funny to pupils. For instance, bringing a creepy pet to an auditorium or imitating the voice of Dumbledore. Yet adult people rarely understand such humor. 
11.Pretend that you are sick. Pupils "faint," imitate epilepsy, pretend deaf. Not so funny for pedagogues, especially for those who really care about students.
12. Sleep during lectures. It is a brave decision, sometimes it happens unwittingly. In any case, it is not comfortable both for a sleepyhead and all those present in a classroom.
13. Joke during serious lab experiments. Cartoons and films show these tricks as bold pranks. In fact, they can cost you a good rating and even health.  
Hope these examples do not sound like a call to action. University is not a place for pranks and jokes. At least, when it deals with auditoriums. Our intention is warning you about proven ways to irritate your professors. Take this article as a guidance to your further educational career. Properly built course of conduct results in good ratings and reputation. Is not that what you want? If you feel that the reason for the teacher's irritation lies in your papers, turn to our agency. Shinyessays.com guarantees high-quality help with all types of assignments.
Do not miss other posts by our authors.