The essay about life is a popular assignment for high school pupils and college students. With its help, teachers and professors want to make young people reflect on the meaning of personal existence. Besides, admission boards read these essays to learn more about a college applicant. If you have no idea where to start and what to write in this paper, check out this post by skilled authors from Shinyessays.com.
Sooner or later, thought about the sense of life comes to every man. Yet, when you live without thinking about such philosophical issues, an essay on this topic can puzzle you a lot. We hope these tips will come in handy for you.
Titles for your essays on life
It all starts with the theme of your paper. An essay on life is a broad topic. If you want to narrow it, check out these titles.
My understanding of the sense of life.
The main issues of human life
What is the secret of a happy life?
Life as the greatest value for humankind
My greatest life achievements
What drives our lives?
Essay on obstacles in life
Essay about the ambition of my life
In your life essay, you can give answers to these thought-provoking questions.
What is your perception of life?
What are your main life goals?
Are you guided by emotions or logic in your life?
What determines your destiny: the universe or your deeds?
How can you describe your life path?
What are the priorities of your life?
What did Bon Jovi mean in his song "It's my life?"
Do you have a motto?
What is your philosophy of life?
Here is one more interesting technique to generate ideas on this topic. Continue the phrase: "Life is…" Creative skills https://shinyessays.com/blog/how-to-improve-creative-writing-skills-11-tips can help you develop this thought.
And here is what Google offers, for instance.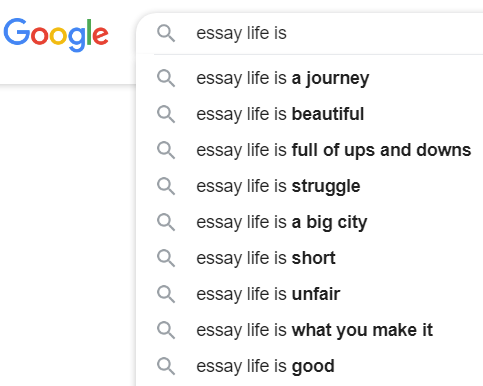 We can add this list with some more variants:
Life is sports
Life is a great gift
Life is art
Life is a constant search
While searching for information for your essay, pay attention to quotes about life and its sense. Famous people can prompt an unexpected idea and spark your thought.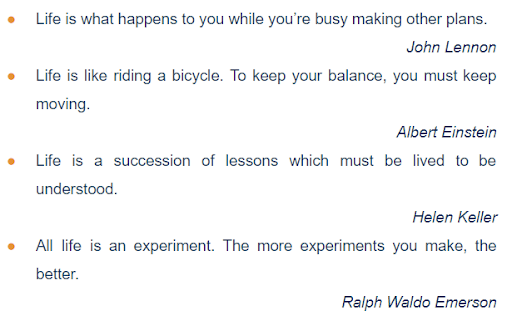 "My life" essay: advice on structure from experts
As a rule, the structure of the essay boils down to three main parts. Academic consultants from our online agency Shinyessays.com have selected several ideas on what to write in each of them.
Introduction
You can start with a provocative question or a successful quotation. Your goal is to set the tone for further text and elicit the first emotions. An intriguing fact from your biography is also a good idea. If you have a funny episode in your life story, use it for the introductory paragraph.
Body
It is the main part of the essay outline https://shinyessays.com/blog/essay-outline-tips-examples--formats.
You need to describe the theses and provide arguments in their support here. Say, if you write that you are a goal-oriented person, prove this fact with evidence.
Write about people that changed your perception of life.
Show the power of your feelings and the depth of emotions on the example of life events.
If you have big life accomplishments, write your story of success.
Show your individual traits through your crucial decisions and deeds.
Connect your past and present life. Describe how you have overcome difficulties and failures.
Conclusion
This paragraph is a logical ending of the essay. Sum up your ideas and write a catchy phrase. By doing so, you will leave a sort of aftertaste.
If the college rules allow, you can choose any manner of presentation. The writers from our online agency have prepared some ideas. So, get inspired and choose your style.
✓ An essay based on a constructive self-analysis
There is no point in looking for the sense of life somewhere in external sources. High social statuses and big incomes do not really matter if you do not live in harmony with yourself. The same can be said about searching for happiness in a soulmate or a friend. Without self-sufficiency, self-development, and self-growth, life is not full.
✓ A naive and romantic essay
Life consists of details and nuances. It is felt in bright sunshine and fresh breeze, children's smiles and tears of happiness, unexpected delight and selfless generosity.
We feel the taste of life, above all, in emotions. Tenderness, excitement, thrill fill us and give the energy to do great things.
Life is not always about strong logic and a well-considered plan, as we cannot control everything. The joy from accomplishments is fleeting. Meantime, you can enjoy every moment on your way to success.
✓ A pessimistic essay (with a little bit dark thoughts)
It seems that some people simply waste their lives. The worst thing is to wake up in the morning without any goal and understanding of the sense of life. In this case, the man only exists.
The choice of the writing style and the manner of presentation depends on the type of student's personality. However, you can mix or compare some views on life in your essay.
Thought-provoking movies about life
Check out this list if you do not like reading, yet want to get some inspiration.
Do you remember his sweet associations with life?

Into the Wild
100 Dinge
Hacksaw Ridge
Seven Years in Tibet
Interstellar
Bohemian Rhapsody
How to write an essay about life?
Inspiration is not enough to craft a perfect essay on life. You need to express your thoughts on paper according to the academic rules and peculiarities of this piece of writing.
Principles of essay writing
✓ Show your personality
Whether you write an essay about your life or reflect on general philosophical aspects of this concept, always express your point of view. Add your opinion on the subject of the topic.
✓ Strive to be unique
Fresh ideas are highly appreciated in the academic world. You can also choose an unusual writing style if it is allowed. Having found your tone and voice, you will come up with a rememberable essay.
Do not copy others' stories, as plagiarism is easily detected with the help of modern software.
✓ Make it readable
Your text must be clear and logical. Avoid tautologies, long sentences, inconsistent statements. Besides, when using short sentences, you can make fewer punctuation mistakes.
✓ Be vivid
Select powerful words and meaningful phrases to come up with an evocative essay. Choose interesting examples to prove your point of view. By doing so, you will catch the reader's attention.
✓ Raise acute issues
Describing actual problems, you can draw more attention to your story. For instance, the essay on life under lockdown has become very popular. Written by a homeless man, it shows the real picture of his struggles in these difficult times.
✓ Do not ignore grammar
Reread your essay several times to eliminate typos and errors. The fastest way is to use modern software, such as Grammarly, for instance. Still, its algorithm cannot catch all the stylistic mistakes and other nuances.
✓ Informativeness
Do not overload the reader with unnecessary details of your biography, long descriptions of nature, repeating well-known facts, etc. Focus on your attitude to life.
The essay on life is not only a high school or college assignment. This story can be written for blog platforms, social media accounts, newspapers, magazines, etc. In this case, you can experiment with its style and even come up with a photo essay.
What you might not know about life essays
Do not be afraid to express your thoughts in the essay. In fact, a professor does not want to learn the sense of life from your paper. He/she, above all, wants to see your personal suggestions on this topic. The point is not to guess the right answer but to demonstrate the depth of your thoughts and the logic of findings.
An essay on life is a thought-provoking assignment. Apart from honing writing skills, it helps to sort yourself out and think about the sense of your existence. Yet, it happens that a student is not ready to make philosophical considerations and delve into this topic. We understand this issue and offer an effective solution to it.
If you cannot cope with the task on your own, turn to our academic writers. We will consider all your preferences and craft your best ever essay.