A decision to study abroad is progressive and bold. We admire young people who are not afraid to go out of their usual frames of lifestyle and aspire to reach new achievements in other countries.
Skilled writers from Shinyessays.com want to encourage future and current foreign students. In this post, our team has gathered useful advice for those who plan or already get an education outside the native country.
What do the statistics say?
International education is getting more and more popular every year. It is a part of the contemporary globalization processes enabling students to study abroad and receive priceless experience. Apart from language skills, they learn to be tolerant, communicative, and independent.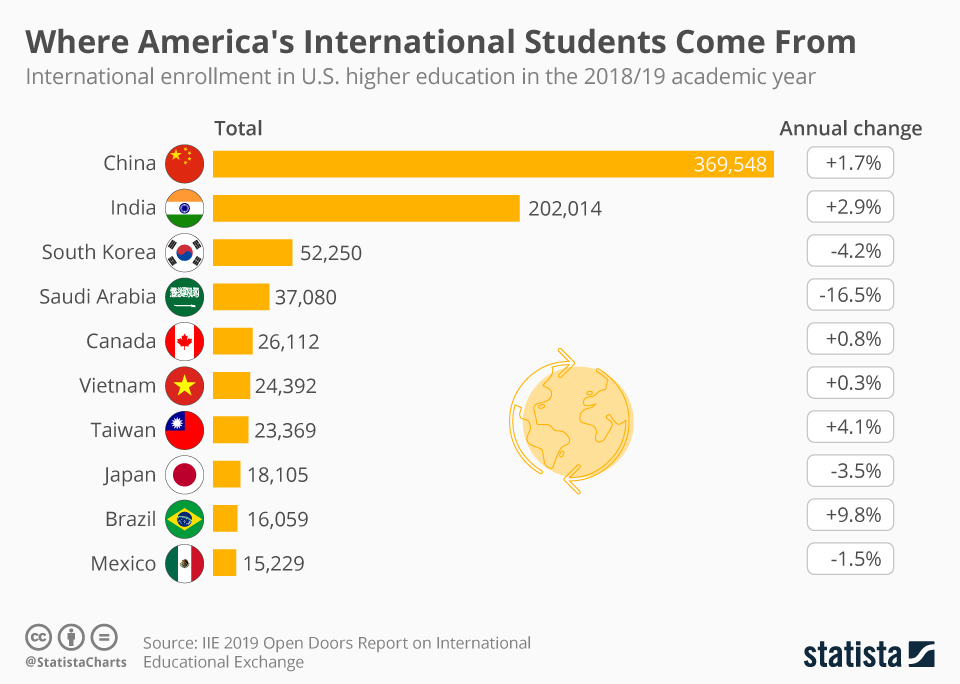 Source: https://www.statista.com/chart/20010/international-enrollment-in-higher-education/
These tips will come in handy, whether you are a foreign student in the USA or an American studying abroad.
Being an international student: what to expect?
Academic writers from Shinyessays.com want to warn you about potential issues while studying abroad. The reality in a new country might be completely different from your today's life.
✓ A language barrier
Apparently, you have been studying a foreign language at home. Yet, even films and online communication do not give a true picture of what you will encounter. The local dialect and slang might sound odd for the first time. 
✓ A cultural shock
Yes, a cultural gap between the two countries might be enormous. It deals with the way people greet each other, communicate, spend leisure time, etc. Different nations have contrasting attitudes towards a life-work balance and education. Get ready to coexist in harmony with other beliefs and social norms.
✓ An academic language
Academic writing differs from spoken language. At college, you have to use an official tone for your assignments. It implies proper grammatical constructions and specific terms. Learn more about essay writing from this post: https://shinyessays.com/blog/top-10-tips-for-essays-writing-in-2020
✓ Financial issues
Apart from tuition and living expenses, think about costs for transport, insurance, unforeseen expenses, etc.
✓ Loneliness and boredom
Homesickness can become your crucial issue, especially if it is your first experience of independent life without parents. A new social circle may appear weird and far from your expectations.
✓ Health issues
It is all about a new climate, food, and stress. Overseas students are often not prepared for new dishes, weather, lifestyle, geographical environment, etc. All this can cause physical and mental health problems.
✓ Issues with job search
The student visa enables young people to work part-time. Yet, it deals with a little number of hours. Say, twenty hours per week. That is why many employers do not want to hire them.  
✓ Organizational issues
Life on campus differs from staying at your parents' house.  Nobody will wake you up, cook for you, and ask to do homework. You need to pay for rent in time, go shopping, handle the paperwork on your own.
✓ A lack of desire to come back home
You might like the new country so much that you will want to stay there forever. A high level of living, vast career opportunities, interesting acquaintances sound so attractive...
Myths on studying abroad
The fear of the unknown can become the greatest obstacle on the way to your dream about studying abroad. Unproven facts and stereotypes distort the truth and, thus, increase worries around this situation.
We have asked our college essay consultants to dispel several myths. The thing is some authors in our team have experience of studying abroad too. They attended colleges in the UK, Spain, and German.
#1 It is expensive
It is all relative. For instance, most of the German universities are free. As for other countries, you can apply to a scholarship, financial aid, or find a part-time job.
#2 Studying abroad is nothing but a gamble
Yes, nobody guarantees you a dream career after getting an education in another country. Still, this experience shows your active life position and boldness. Let alone honing foreign language skills.
#3 You must be an excellent student
You do not need the highest rating to study abroad. As a rule, educational institutions demand an average GPA; still, it depends on the prestige of the college or university, as well as the popularity of the faculty. So, do not worry about high competition with native speakers. In fact, you have all chances to enter practically any international college.
#4 A language barrier prevents from studying
Do not be afraid of foreign language. Firstly, you can attend specialized courses for international students and improve your language skills. Secondly, there are helpful applications where you can translate phrases and words online. Being near native speakers, you will finally get accustomed even to the most complicated dialect.
#5 You will be alone
As a rule, foreign students have support programs, helping with psychological and organizational issues. You can always turn to an embassy, let alone online resources. With modern means of communication, you can always stay in touch with your friends and relatives.
What is true is that studying abroad is challenging, yet it in no way implies — "impossible."
How to study abroad: expert tips for students
The life around us goes global. The borders between countries are blurred due to virtual space and international processes. So, why not get a high education at an oversea college? But first, check out some professional advice from our skilled and expert authors.
#1 Get prepared before you go abroad
Obviously, a decision to continue education in a foreign country cannot be taken in one minute. You need to get ready for this step.
Join a study abroad program. Find its offices online or at colleges of your native city. You can also write directly to the foreign college and ask them about their rules and requirements.
Get your documents in order: passport, visa, insurance, etc. Write an awesome application essay https://shinyessays.com/blog/tips-for-writing-a-successful-application-essay.
Learn all the available information about your future college. Google reviews, watch web cameras online, find its groups on social media, etc.
Check your health state and pay attention to chronic diseases.
Handle your financial issues: find support programs, grants, take credit, etc.
Attend language courses or practice them online.
#2 Communicate
When you come to a new country, do not be afraid to ask one more time if something is unclear. Thus, you will easily cope with a language barrier. Take an active part in student activities  — it is a good way to immerse yourself in a foreign culture.
#3 Cooperate
Academic consultants from Shinyessays.com have noticed that international education is a popular trend today. So you might easily meet countrymen or simply like-minded people. Together, you will cope with all the issues. Mutual support is extremely important for students studying abroad. However, do not restrict your communication with foreigners only. Try to make friends with your flatmates and classmates too.
#4 Watch your health
Insurance is a must for studying abroad. Besides, watch what you eat and drink. Avoid potentially dangerous situations: do not swim in unknown water bodies and do not walk in a bad neighborhood.
#5 Work on your self-control
Stay tolerant, as you are a guest in a new country. Respect its traditions, culture, religion, lifestyle, etc. It is a matter of honor, reputation, and security. Choose a friendly tone and a positive attitude.
#6 Keep in touch with your parents and friends
Communicate with close people who remained in your native country. Present-day video calls and messengers make this process convenient and affordable practically for everyone. Thus, you will not feel lonely.
#7 Plan your budget
Set up a bank account and monitor your expenses. Always leave a certain amount of money for unexpected situations.
In order to improve your financial state, find a part-time job, and look for optimal ways to save money. Say, search for a cheap phone plan or use public buses instead of taxis.
Four strategies for international students as a bonus
While preparing this post, we have encountered an interesting survey on types of foreign students.
Depending on the financial status and academic preparedness, there are four kinds of young people:
a striver: excellent knowledge and low income; 
a struggler: moderate academic preparedness and low income;
an explorer: moderate academic preparedness and high income;
a highflier: excellent academic preparedness and high income.
Interestingly, strivers constitute the majority of international students — about 30%. It means that financial issues do not stop young people from going abroad.
Instead of the last-minute advice
Studying abroad is challenging; still, it is worth trying.The experience you get is valuable for both your professional career and personal growth. Do not be afraid to make this vital step out of your comfort zone.
It is not only about practicing language skills, getting new knowledge, and one more paragraph in your future resume. The main thing is you work on yourself and push the boundaries of the mindset.
We believe in you! Let this journey bring you a bunch of bright emotions, awesome friends, and lifelong memories.